Get inspired to throw the best Encanto party that your guests will love! Every good party starts with a great party theme. The colors, music, characters, and fun of Encanto make it a perfect party theme for young kids and any upcoming birthdays you might have coming up.
Take advantage of simple party supplies, your favorite grocery store bakery, and these creative ideas to pull off a fun and beautiful Encanto party!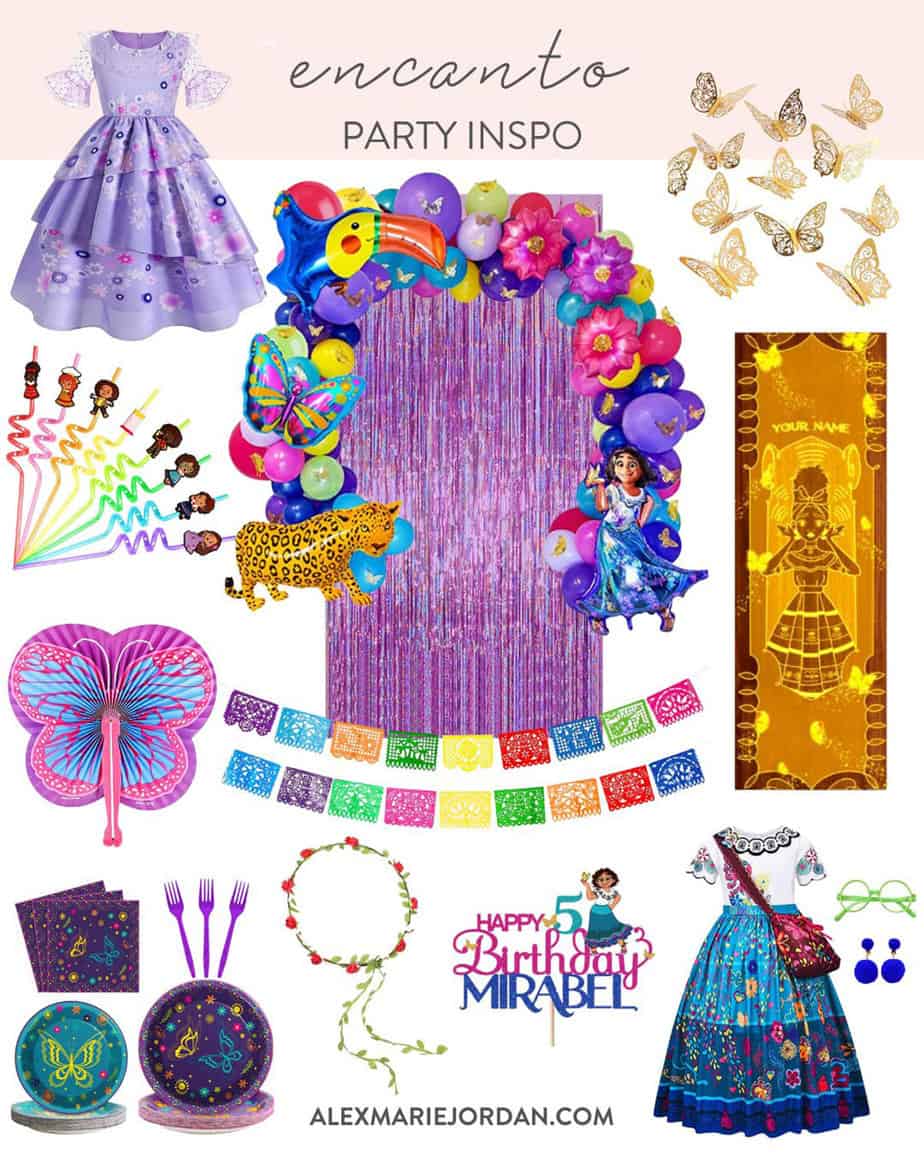 DECOR
Encanto doors
A beautiful gold Encanto door is a MUST for this party theme. The Madrigal family home (their Casita) is a huge centerpiece of the entire Encanto movie and putting up these doors around your home, whether it be on the walls or actual doors, is such an easy way to transform your space magically.

paper flowers and banners
Tissue paper flowers, garland, and colorful fiesta banners are really easy and quick ways to make your event space or home party-ready. You can easily create your own paper or tissue paper flowers and decor if that's something you want to do. If DIY isn't your favorite, there are so many great and affordable options out there that will help you achieve the same look, too!

Photo Backdrop
I always love a good photo backdrop or a good place to snag group pics. One of the best and easiest ways to get a great photo opp is with a tinsel fringe background and balloons. DIY balloon arches are all the rage and truly so simple to put together. Especially if you have a balloon pump.

Costumes
Costumes for your Encanto party aren't a necessity, but they sure would be fun! Whether you have a little Mirabel or if you just want to give your party guests a fun accessory like these cute flower crowns, it's always fun to dress the part. There are Encanto costumes for all your favorite characters all over and you could also use a graphic to make a quick tee if that's more your style.

Encanto Party Favors
I love a good party favor and when deciding on my party favors, I try and think of two categories to choose from. Either something edible like a cute snack bag or pretty cookie or an activity or small toy that can be taken home and enjoyed. Foam airplanes from our plane party were one of my favorite favors ever. Kids were playing with them in our backyard all afternoon during the party and then got to take them home to keep enjoying.
Some Encanto party favor ideas would be animal crackers (for Antonio) wrapped up with a fun label. You could also have custom cookies made and individually bagged up to make it easy to take home. If you're looking for an activity, these coloring kits are super fun. And how fun are these mini piñatas?!

Food Ideas
Matching your food or snacks to your theme is a fun touch and allows for a lot of creativity. With Encanto, you could go for delicious Colombian foods such as arepas, empanadas, and tamales. If you're wanting something a little more casual and kid-friendly, animal crackers, fruit kabobs, and a crowd pleasing Taco Bout Bruno taco bar would be perfect.
For a sweet treat, my go to is always a grocery store cake or cupcakes that I can add a fun cake topper to. Whether you DIY your cake topper or buy cute cupcake toppers, you can't go wrong!
Activities
Party activities aren't a must but they do fill time nicely and help keep younger kids entertained. Here are a few ideas you could use at your Encanto party.
Bounce house (always a HIT!)
Karaoke
Kinetic sand (like Bruno's tower)
Flower crown making station
Paper flower or butterfly making
The colors, music, and fun of Encanto make this a killer party theme idea to run wild with! This party is great for boys or girls because there are so many incredible characters and pieces of the Encanto story that resonates with kids all across the board. Have fun with this one and let your creative juices flow!
More Parties You'll Love
Kenny and the Jets 70s Themed Party
Time Flies Airplane Birthday Party
Throw the Best Oh Twodles Birthday Party