Throwing an Ice Cream Baby Shower
An ice cream themed baby shower was one I had never seen before and thought it needed to be done. Baby showers are so fun but can also feel like a huge burden. Wanting to make sure the mom-to-be is happy, people are fed and well taken care of… these best practices always help knock it out of the park.
I decided on a color palette that felt sort of like retro ice cream parlors – pink, blue, and mint – and went from there. At this particular shower, the baby's gender was being kept a surprise, so this fairly gender neutral color palette was a perfect balance.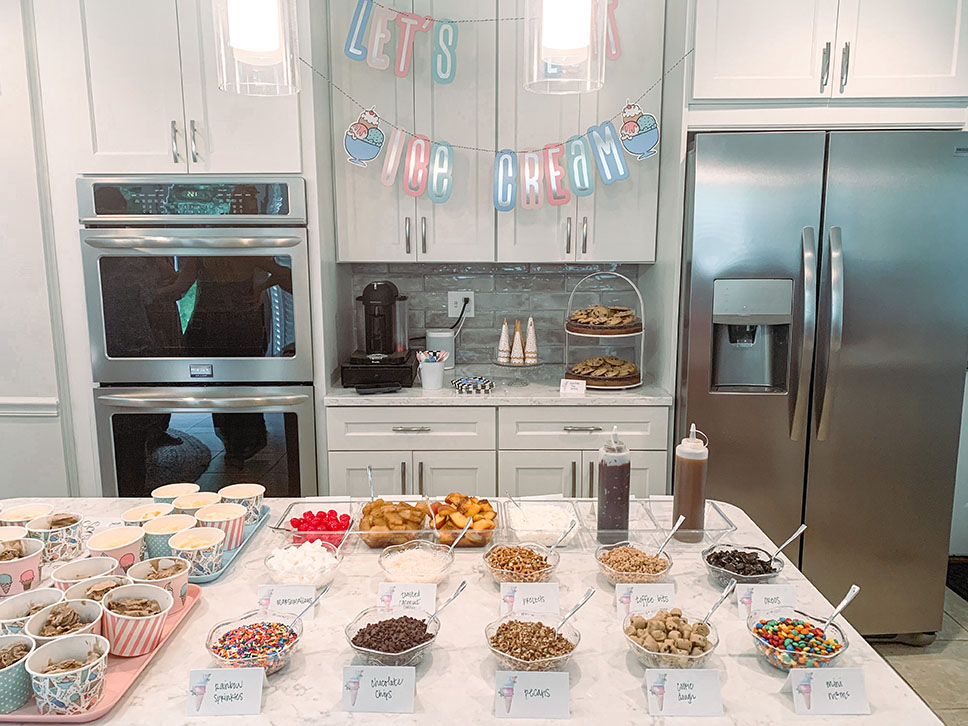 I lucked out majorly by finding a lot of the little accessories like scoops and cups on sale at just the right time. Invitations came from Etsy and I was able to buy a customizable pdf in order to tweak things how I wanted them. They were adorable and the purchase came with a few different printables I was able to use for various things in the party. Linked here!
For the party, the set up was honestly so easy. I had little trays of various toppings and signs clearly marking what was what. I pre-scooped ice cream into little cups and kept them in my deep freezer until it was nearly party time. This was a HUGE time saver and an absolute must if you do this type of party. It took me more time up front but it was such a blessing when guests arrived and I was able to pull out already scooped ice cream that wasn't melted and messy. Truly cannot recommend that step enough!

WHAT YOU'LL NEED
Ice cream – preferably pre-scooped into little bowls and/or cones
Spoons, napkins, other paper goods
Yummy ice cream toppings
Small bowls and spoons/scoops to use for all the toppings
Maybe another sweet like cookies or brownies
Beverages
Clever party favor, if you like that sort of thing (I do!) – had these custom gorgeous cookies made that matched our invitations
If doing a baby or bridal shower:
Guestbook to have everyone sign – we did "If You Give a Mouse a Cookie"
Wish Cards for baby or Marriage Advice for a bride
.
IDEAS FOR ICE CREAM TOPPINGS
Sprinkles
Mini M&Ms
Mini chocolate chips
Grilled fruit
Toasted coconut flakes
Pecans or other nuts
Crushed Oreos
Pretzels
Cookie dough bites
Toffee bits
Marshmallows
Hot fudge
Caramel sauce
Whipped cream
An ice cream social could easily make for an amazing birthday party, bridal shower, graduation party, and plenty of other things in addition to a baby shower. I thought about doing this for Kennedy's first birthday actually… we did something else (see that post here) but it's definitely something I see myself repeating in the future. Everyone seemed to think it was so clever and fun. And as the hostess, it was one of the most simple yet cute parties I've ever thrown.
I hope this gives you some inspiration of how you can think outside the box when it comes to party themes and really make them special. Throwing this ice cream baby shower will always be one of my fondest memories!
.
MORE POSTS TO CHECK OUT