Time Flies Airplane Birthday Party
I had the idea for a Time Flies airplane party for Walker's first birthday before he was even born. I love a good party theme and really appreciate the personalization and creativity of coming up with something unique for whoever the party is for.
My husband has taken flying lessons and is an aspiring pilot, so I had added some subtle airplane decor to our son's room as an ode to him. I found these beautiful prints and these small planes, which I decided I would use for his monthly milestone pictures.
The idea of an airplane birthday party and this theme of "Time Flies" for Walker's first year was born!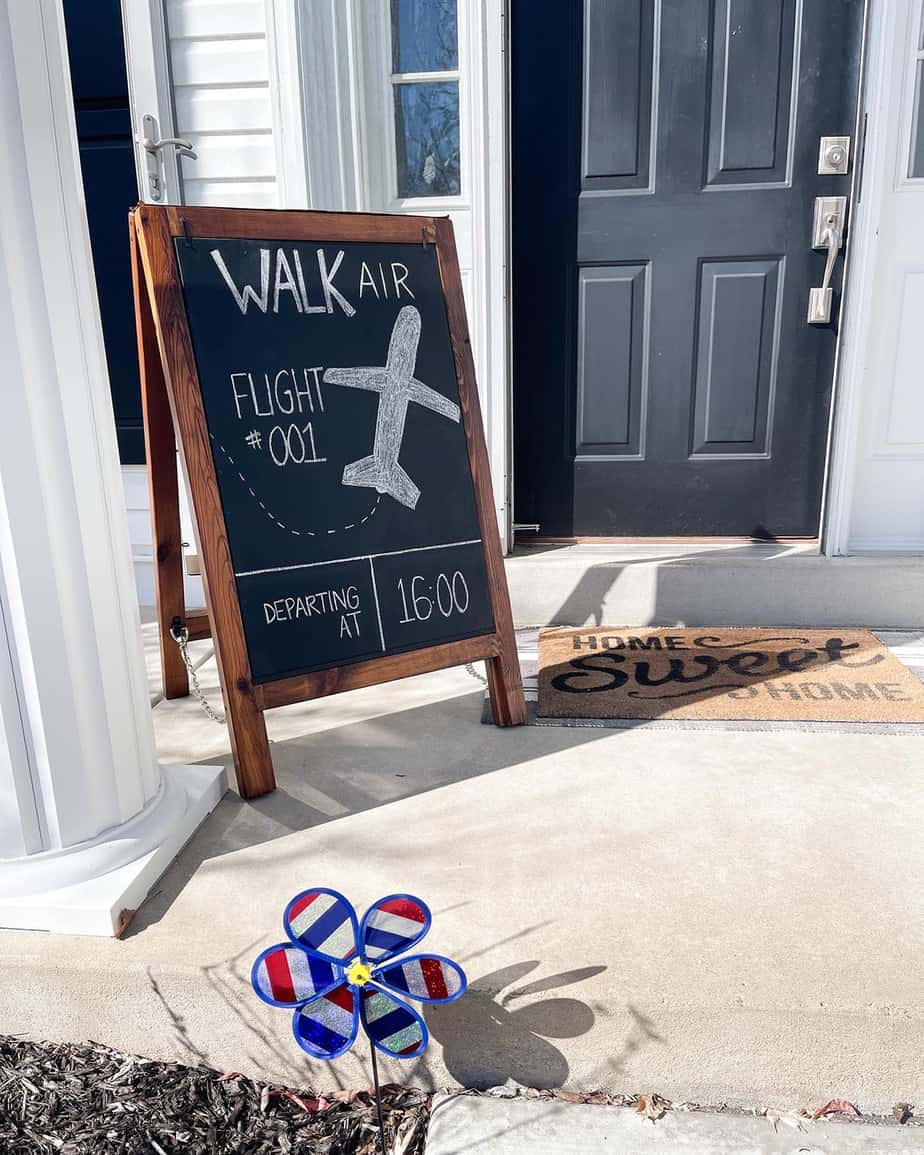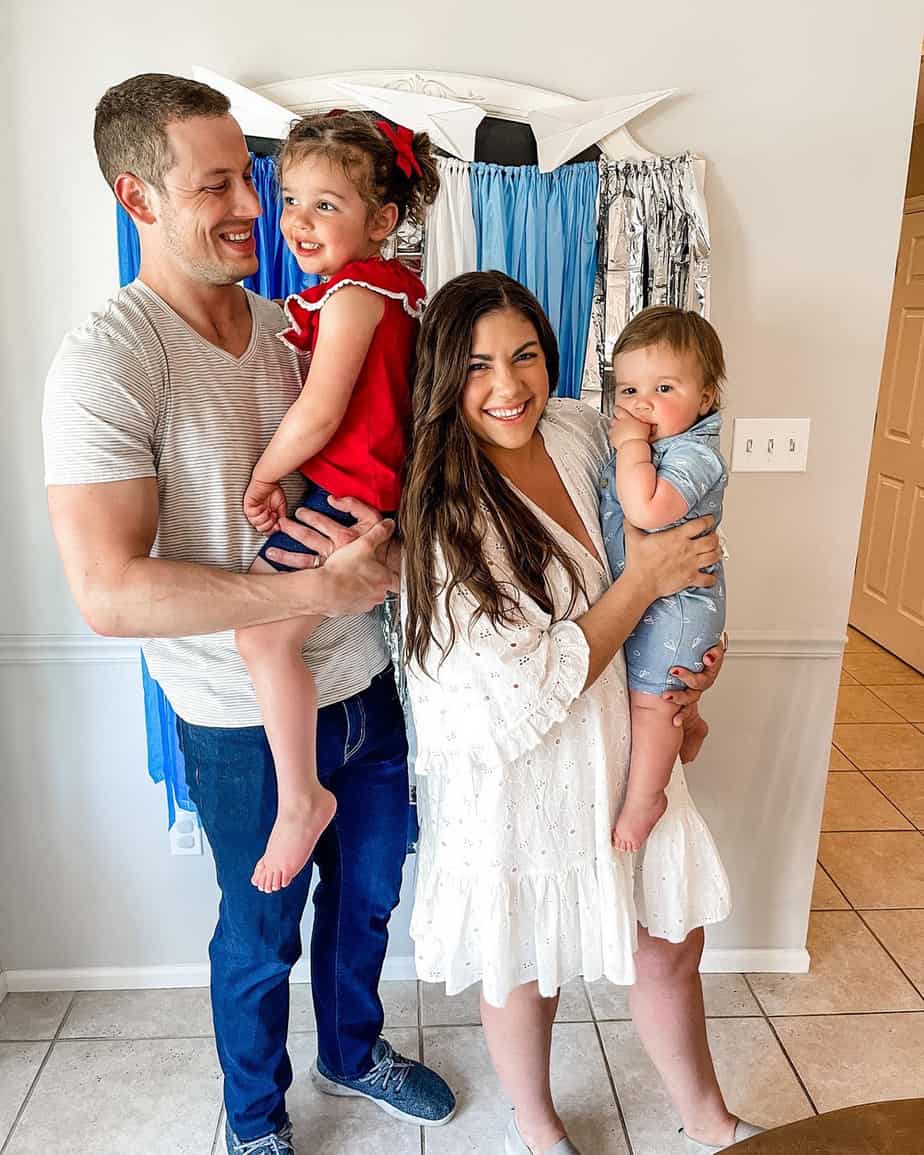 Post may contain affiliate links, which allow me to receive a small commission on purchases you decide to make. As an Amazon Associate I earn from qualifying purchases.

Invitations
I make all of my own party invitations, Christmas cards, and other similar paper goods using Canva. It is super user-friendly and there are lots of great templates, which can provide an amazing starting point.
This invite started out by finding a ticket template and then pulling it apart to create my own design. I love the way it turned out! It's by far my favorite invite I've made. If you've never tried making your own invites before, I highly suggest it. It's a fantastic way to save money, too.
Total cost: $0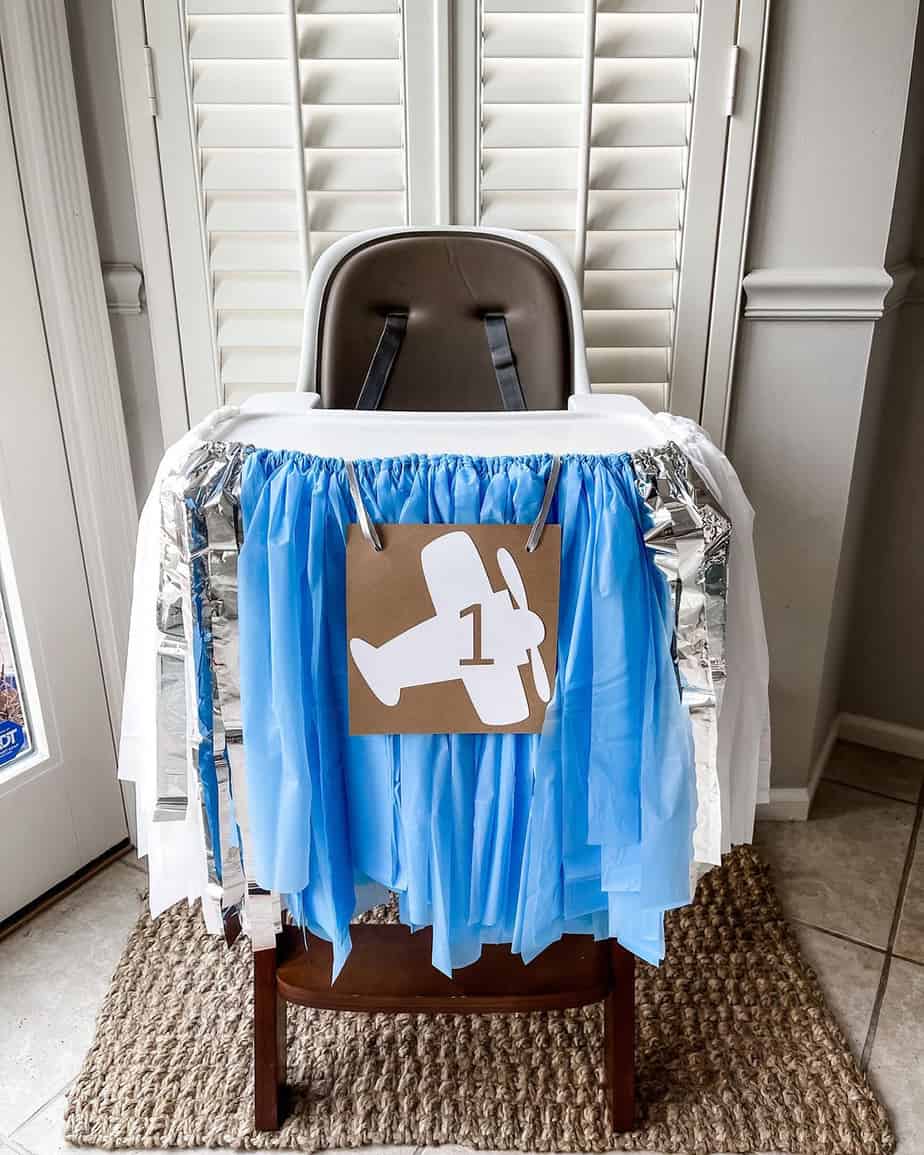 Diy Decor
DIY party decor is another great money saving idea for any party. If you're a crafty or creative person, it can also be really fun. The decor for this airplane party was fairly simple and would be very easy to recreate or customize for any party theme. In addition to a couple diy projects, I also printed my own signage for things like food, drinks, the bathroom ("lavatory"), and party favors.
High chair banners are so fun for a first birthday and make those cake smash moments even more adorable. I made one for my daughter's first birthday and wanted to try a new technique this time. It was similar to the diy photo backdrop I made for the party as well.
High Chair Banner
Use plastic tablecloths from the $1 store
Cut into short strips using paper cutter
Tie onto a piece of twine
Attach to high chair using small command hooks (already had)
Airplane banner made with my Silhouette Cameo and cardstock
Total cost: $3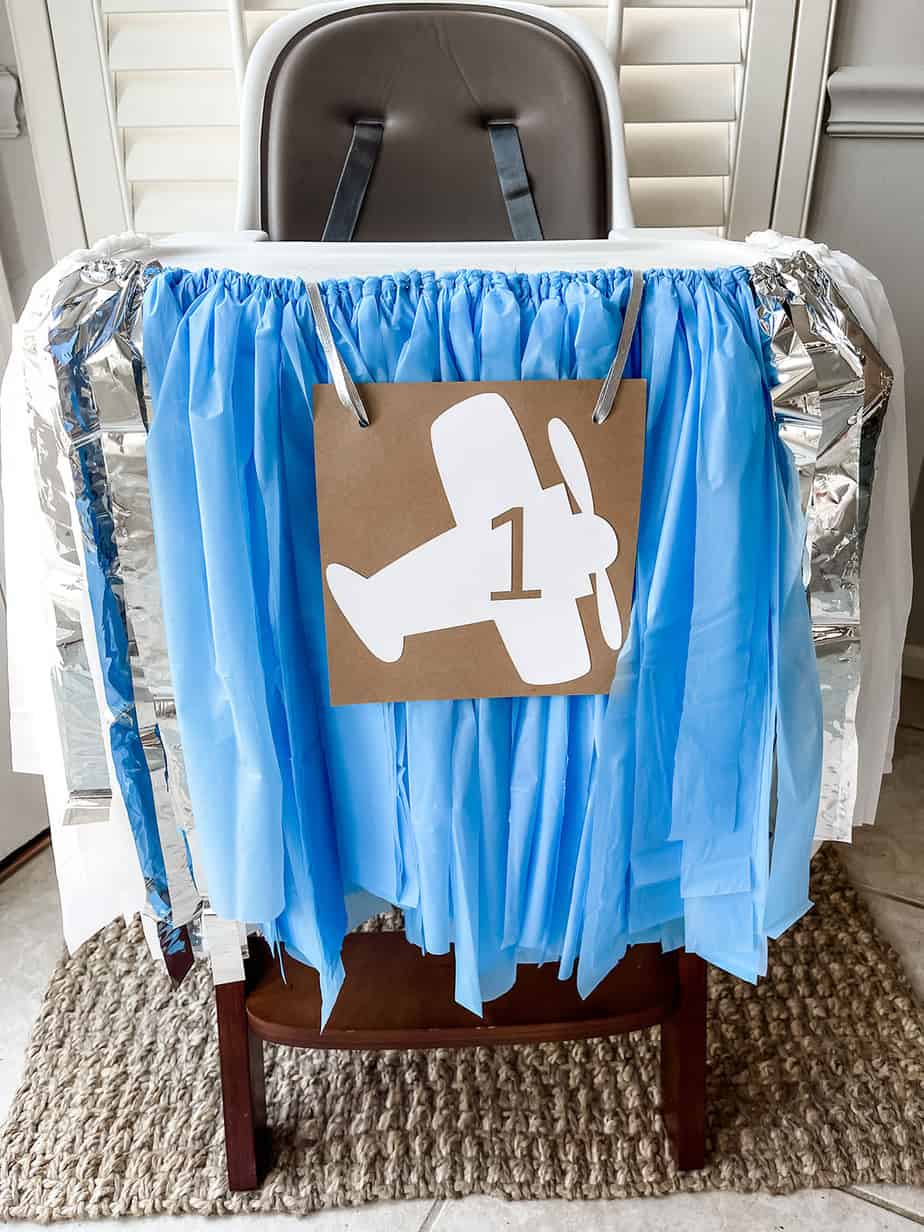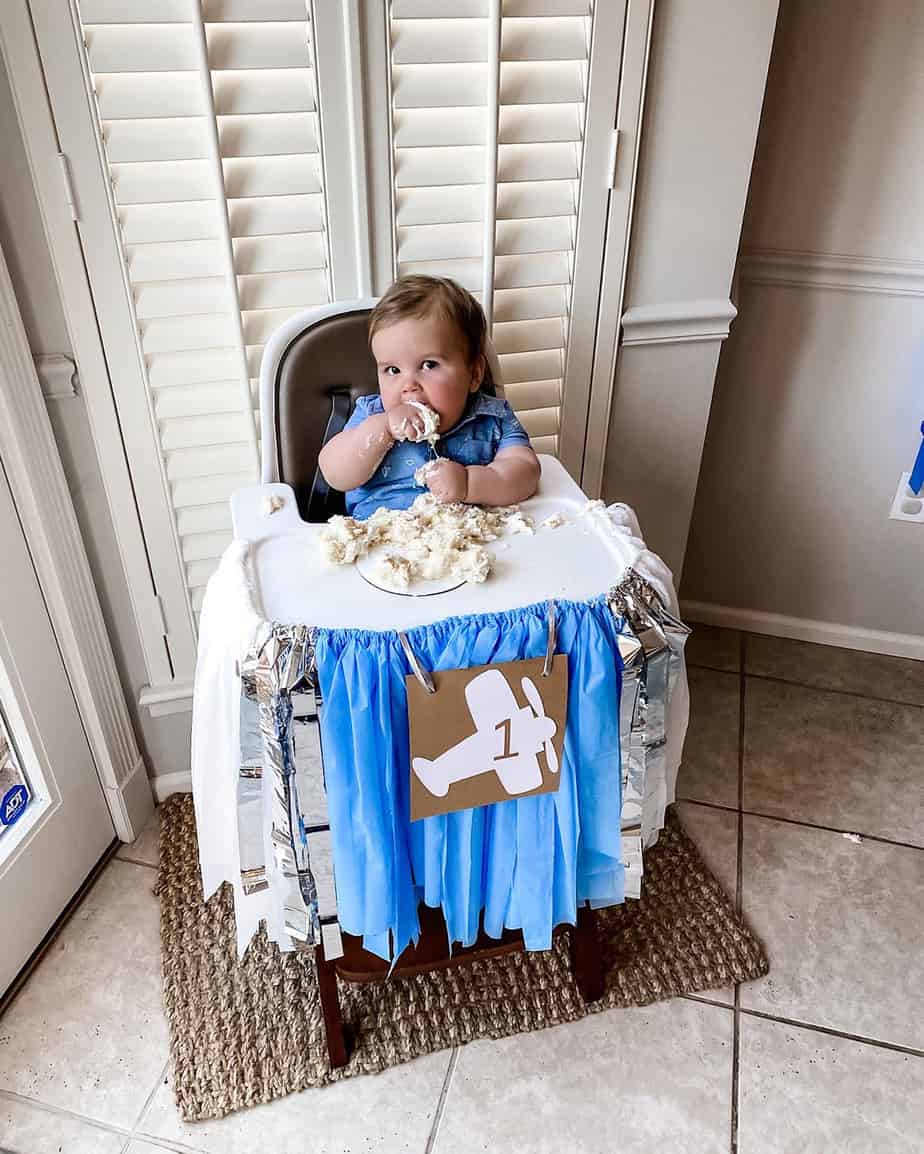 Fringe Backdrop
I think a fun backdrop is always great for a party. It's an easy way to decorate or even cover up a space you don't want seen. It also makes for a perfect photo op.
Use plastic tablecloths from the $1 store
Cut into long strips using my paper cutter
Attached twine across a wall using command hooks (already had)
Tie strips onto twine and completely fill in
I added cardstock paper airplanes to the top for fun
Total cost: $4
Airplane Themed Refreshments
One of the most fun parts of our Time Flies party was coming up with airplane themed "inflight" snacks and drinks to serve. We decided on classic airplane snacks and then came up with a clever diy "bar" for the adults to mix their own drinks using mini alcohol bottles.
Inflight Snacks
Wings
Chocolate chip cookies
Biscoff cookies
Fruit and veggie trays
Popcorn
Pretzels
Chip bags
Total cost: ~ $118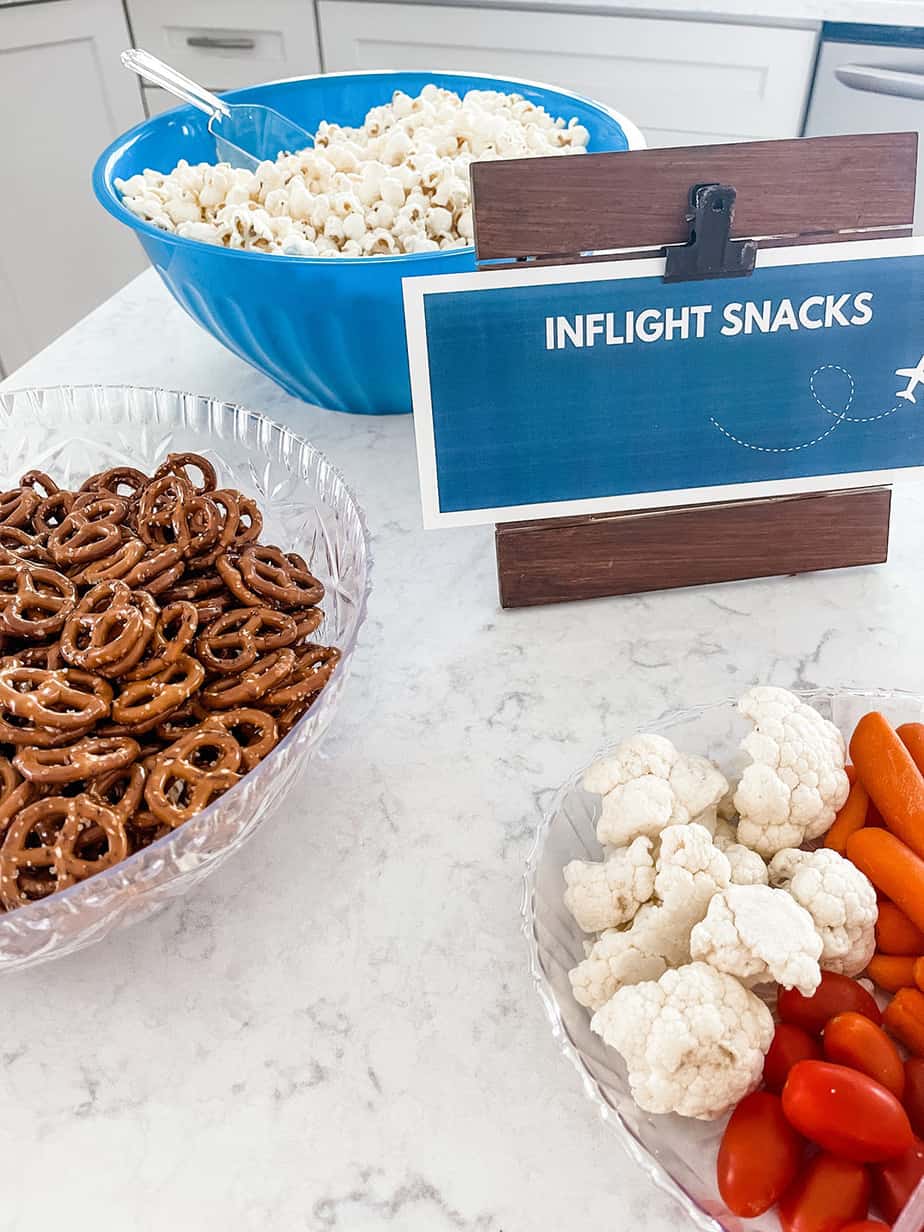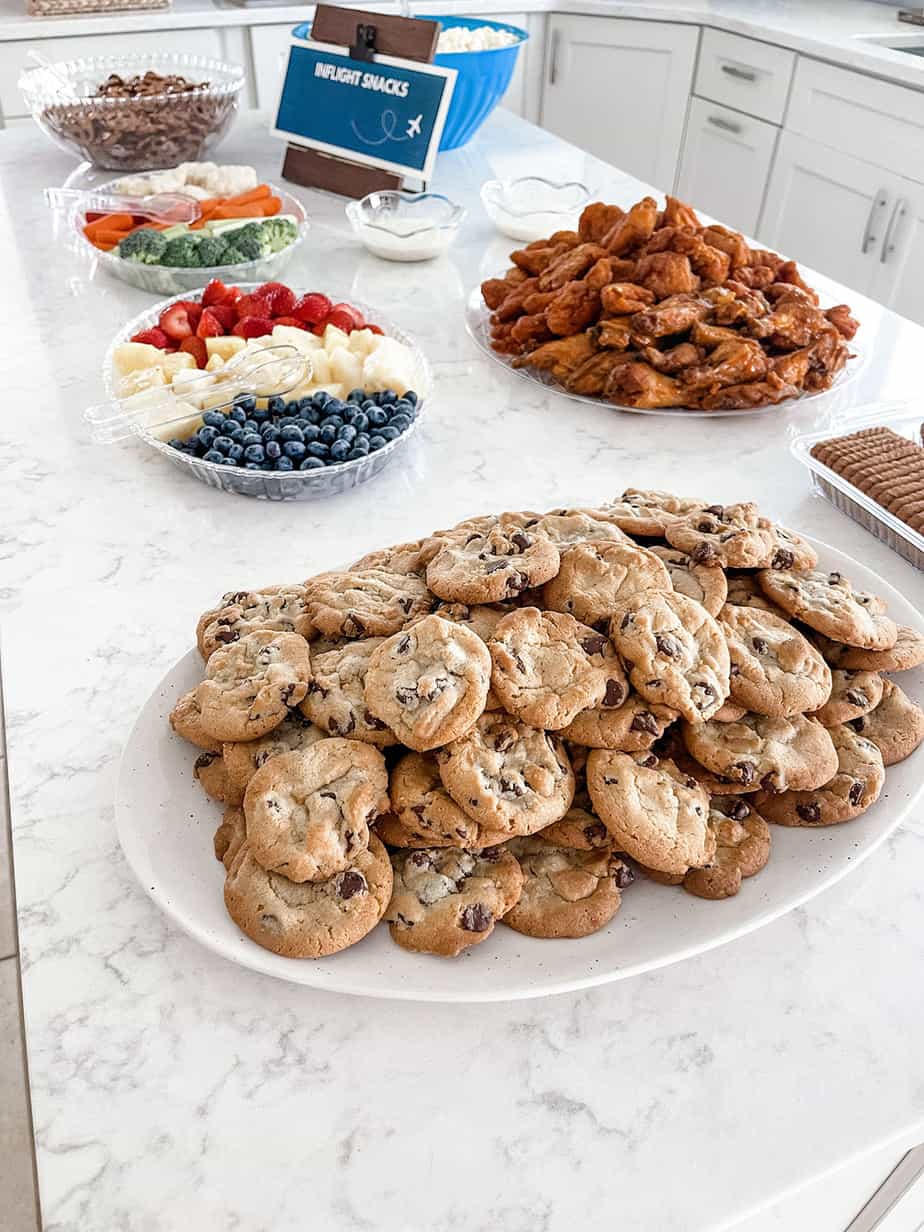 Drink Cart
Juice boxes
Mini soda cans, ginger ale, tonic waters
Mini alcohol bottles
Total cost: ~ $50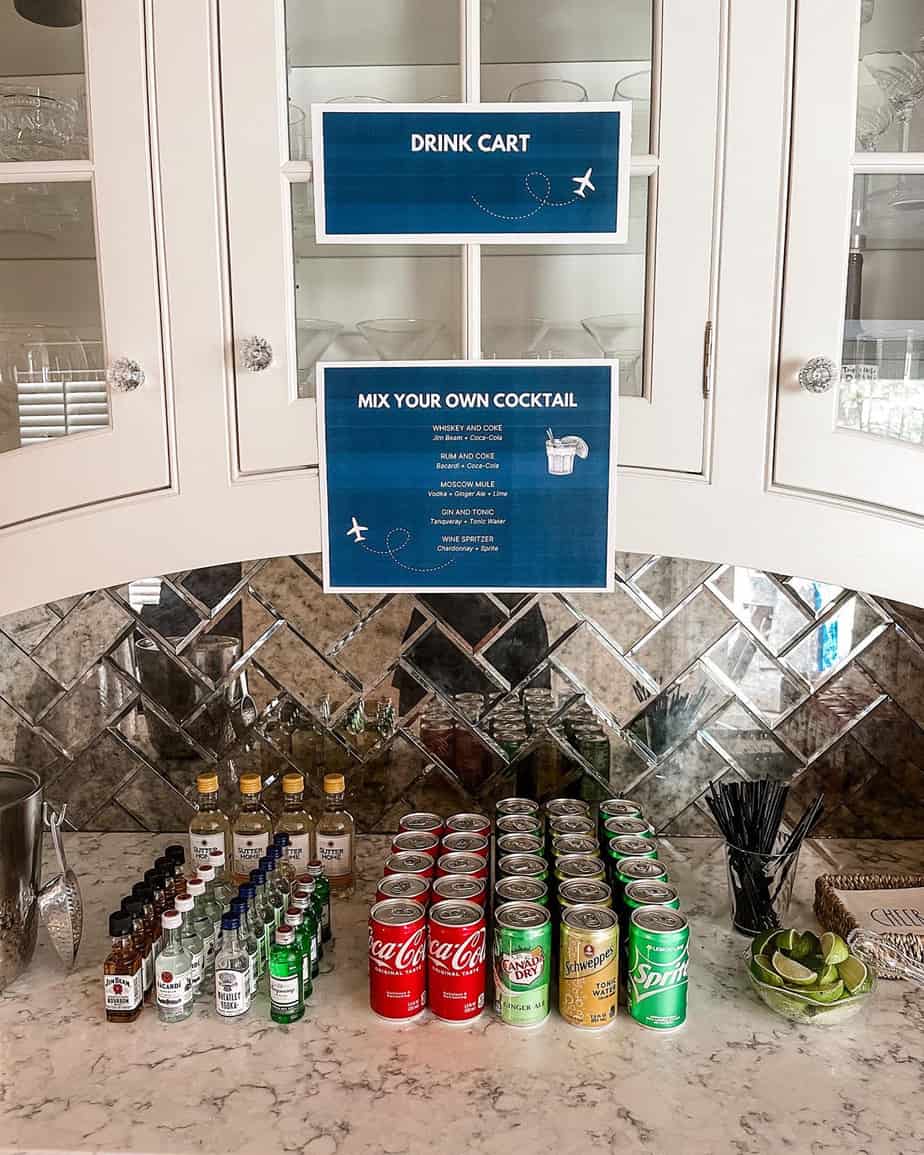 Grocery Store Cakes
If you live near a Whole Foods and haven't tried their vanilla cake, take this as your sign to do so. It is my go to for every party I host and it is always a hit. I order it completely plain aka no decoration or piping. That way, I can add my own personalized cake topper or something fun on top.
For this particular party, I ordered a quarter sheet cake and it cost $23.99. I found Walker's smash cake at our local grocery store for $5 and scraped off the sprinkles and existing icing decor to create something more simple.
Both the cake toppers were easy diys using items I already had. Twine, skewers, cardstock, my Silhouette Cameo, and super glue.
Total cost: $29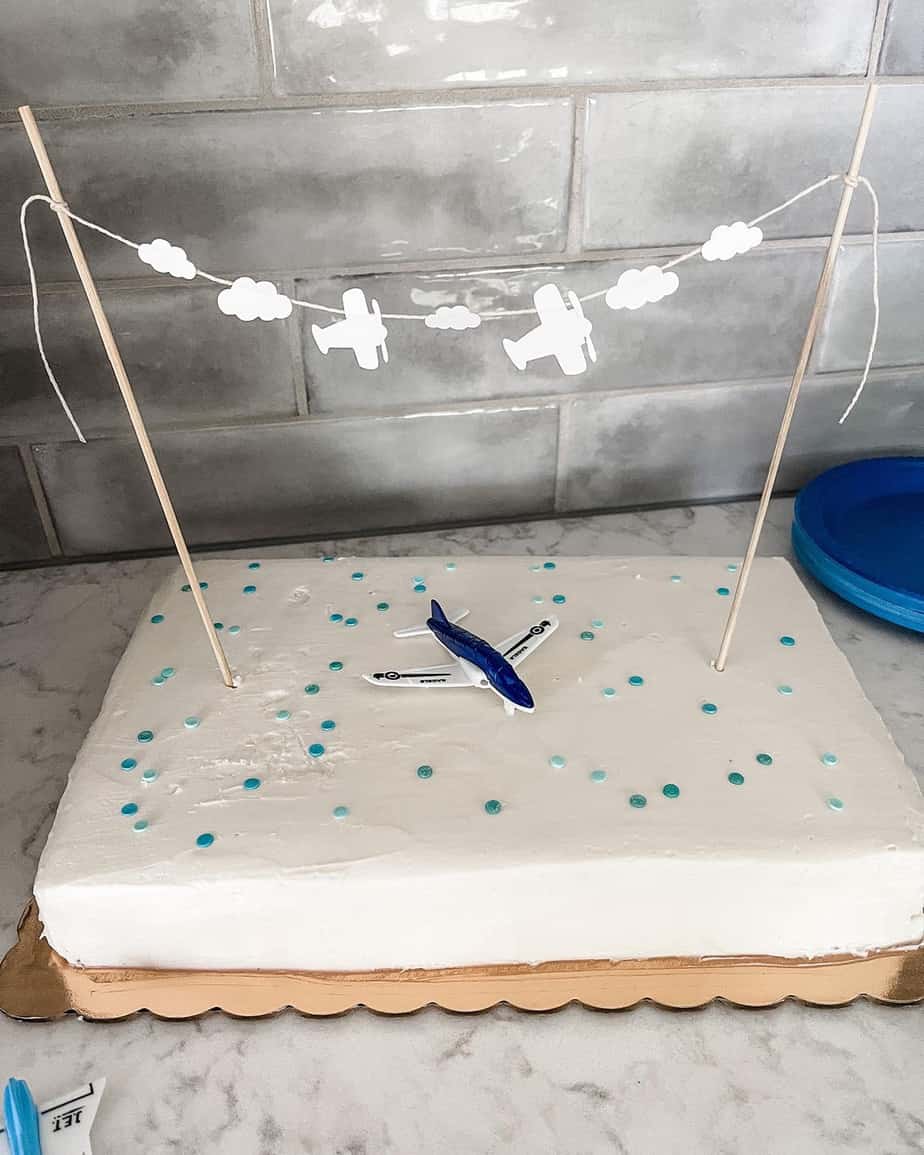 Photo Display Pallet
Since this whole party sort of circled around the theme of the monthly milestone pictures I took of our son during his first year, I really wanted to display those. I made a similar photo display for my daughter's first birthday using a wooden pallet. It took almost no time at all but was large and a great decor piece to show off those monthly photos.
I scored a pallet for free off Facebook marketplace and gave it a little love with some paint I already owned. After printing his monthly photos, I just attached using a hot glue gun.
Such a simple and neat way to see how much your baby changes in that first year of life.
Total cost: $5 (to print photos)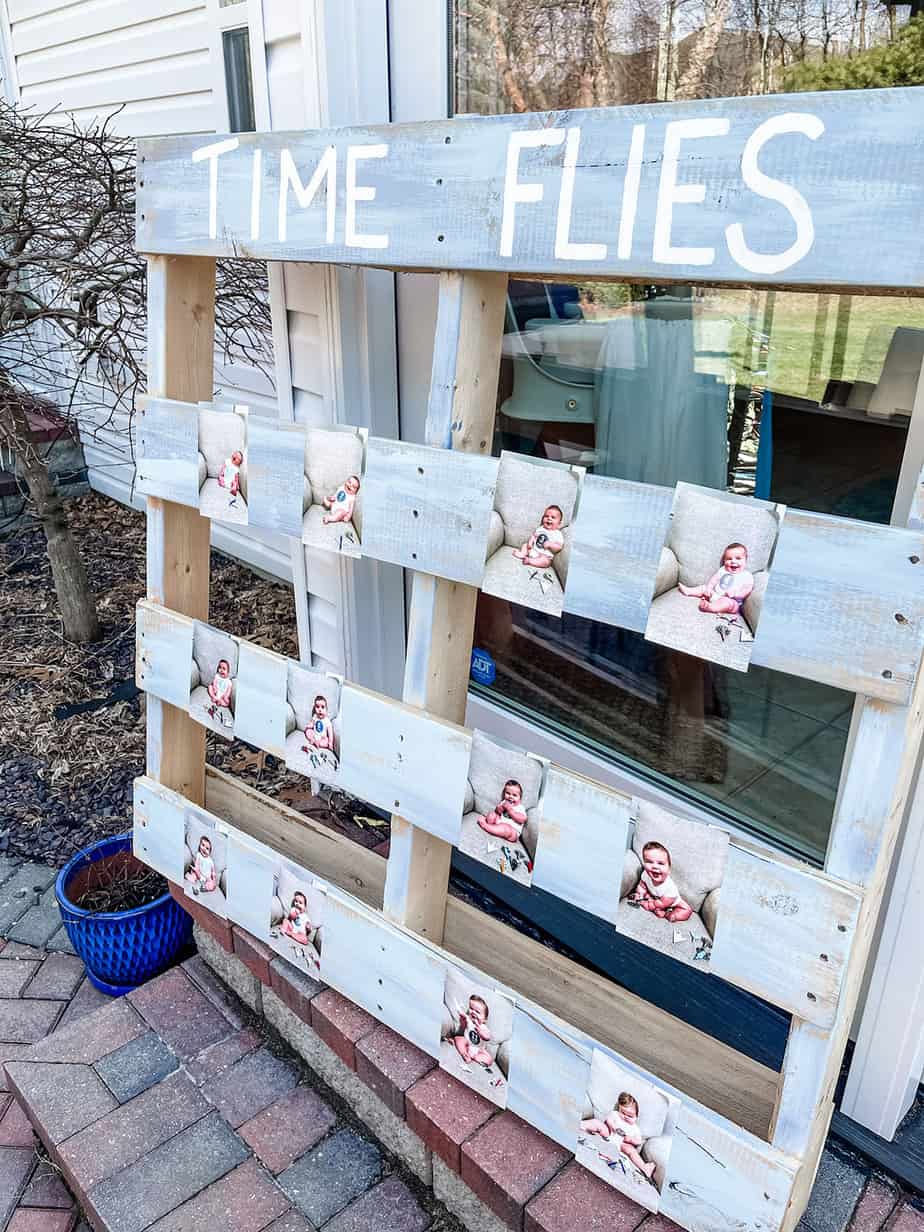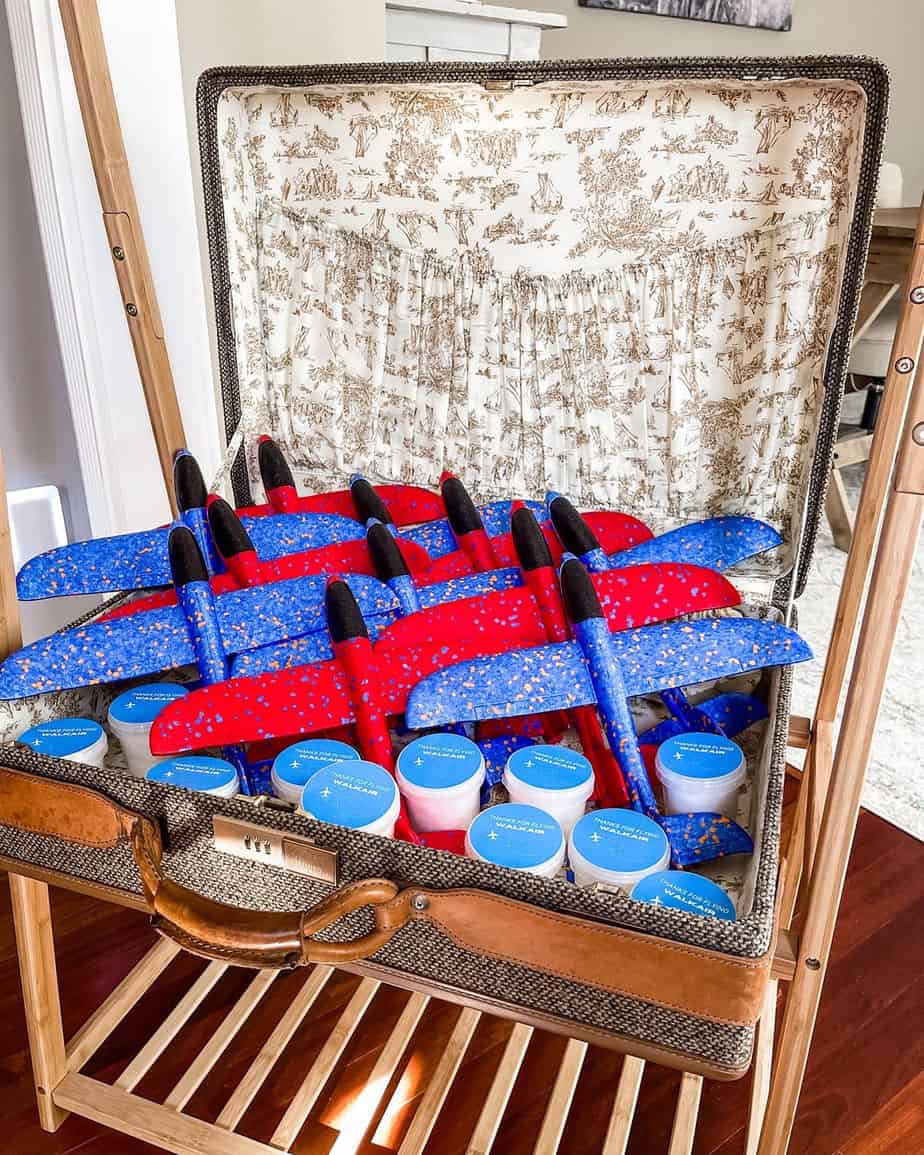 Airplane Party Favors
Aside from the drink cart, which was fun and clever, I was most excited about the party favors. In the past, I've gotten small, cheap little things to giveaway in little goodie bags. It's fine but truthfully, as a parent, you know that most of that stuff is going to end up in the trash.
For Walker's party, I really wanted to be thoughtful in the party favors we gave out. I thought about something that would be clever and go along with our airplane theme, but also an item that could be used and enjoyed, perhaps outside, as we welcome in spring.
I found these foam airplane gliders and after ordering a set to make sure they actually worked, we were sold. Adding tiny tubs of cotton candy "clouds" and displaying them all in a suitcase was the finishing touch to the perfect airplane party favors.
Total cost: $52, which came out to about $4 a kid. Super reasonable especially considering what it was.
Our time flies birthday party went off without any delays 😉 or hiccups. The weather was perfect, kids played outside in the bounce house as parents talked and visited. The details were both simple but thoughtful – my sweet spot.
Happy 1st Birthday to our sweet, Walker. Time surely did fly with you!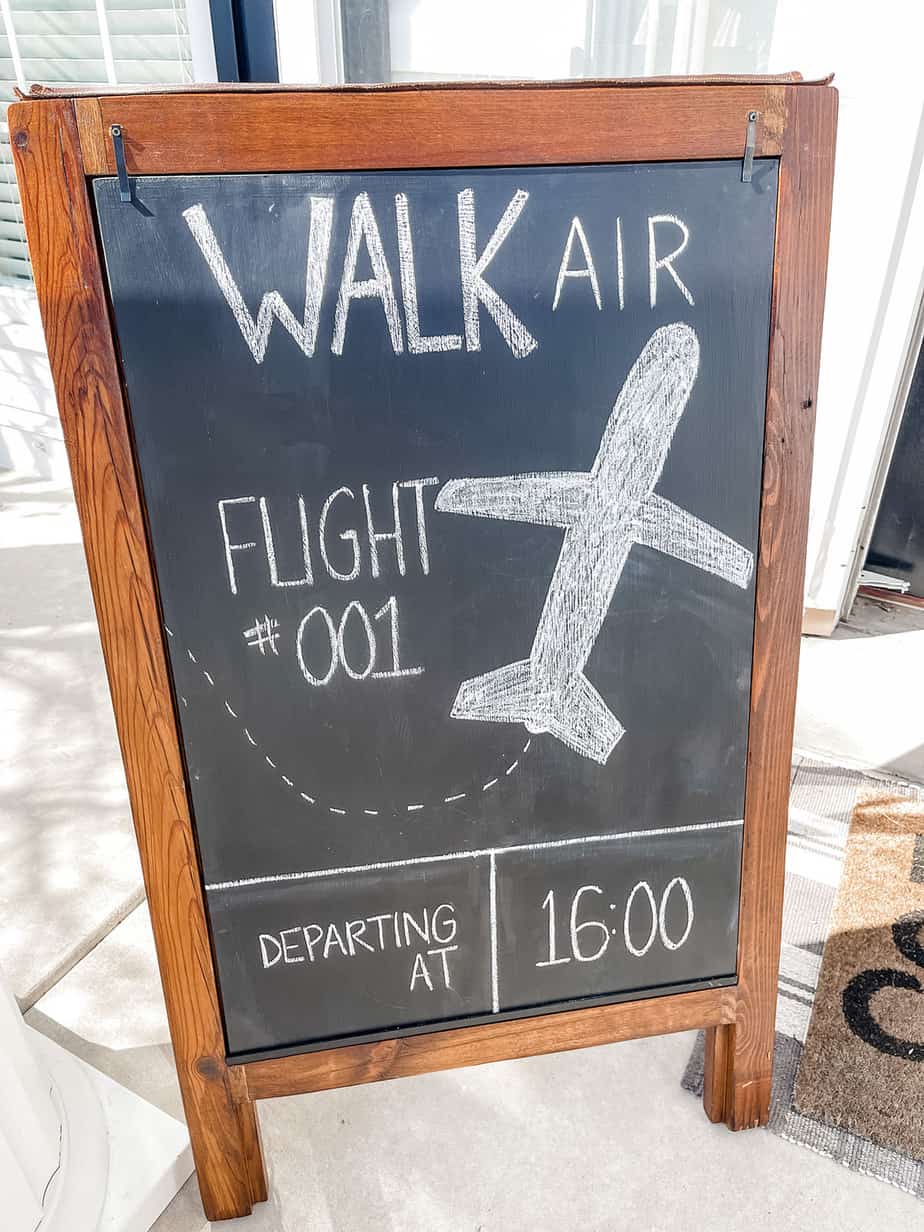 More Party Planning Tips
Throw the Best Oh Twodles Birthday Party
3 Ways to Save Money on a Party
Personalized Cake Topper for Any Occasion
Birthday Party Ideas