I've seen so many stovetop potpourri recipes this winter and wanted to try my hand at one, but with a little twist. Here's my take on a dried citrus simmer pot that smells just like Christmas and comes together with very little effort!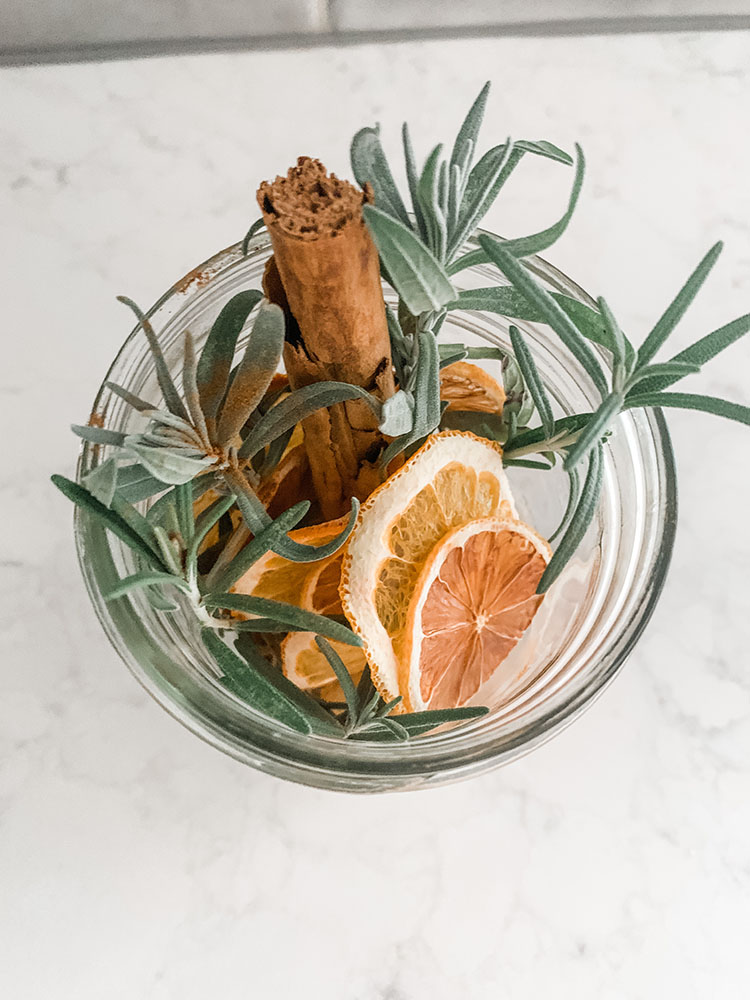 Simmering pots (aka stovetop potpourri) are super popular this time of year because they are a great and easy way to make your home smell like the holidays. Plus they can last for days and make fantastic gifts, too. I've made these dried citrus simmer pot jars for neighbors and friends this year!
The other great thing about a simmer pot is that you can add almost anything you want and it will still smell amazing. Obviously I mean that within reason, of course… but when it comes to spices, herbs, fruits, etc, you really can experiment a bit.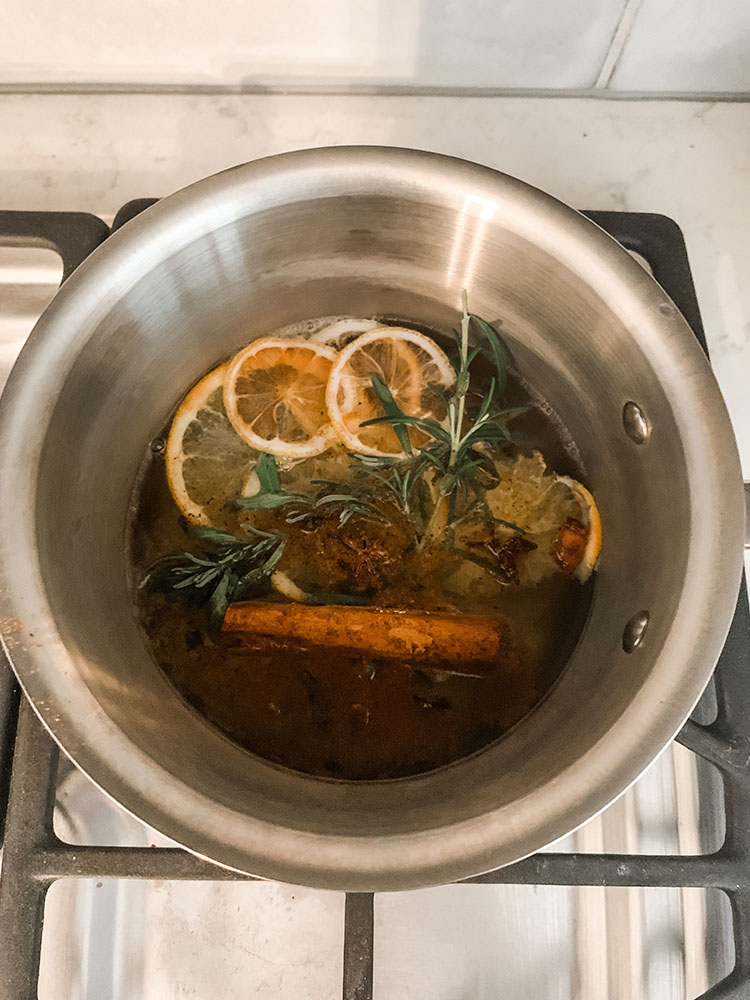 CLASSIC SIMMER POT INGREDIENTS
Citrus fruits like orange, lemon, lime
Apples
Cranberries
Cinnamon sticks
Whole cloves
Nutmeg
Rosemary
Pine or other conifers
Ginger
Vanilla beans and/or extract
As I mentioned, I wanted to put a twist on my concoction, so I decided on a dried citrus simmer pot. Most stovetop potpourri recipes I've seen use fresh fruits and ingredients, requiring them to be stored in water and also used sooner. With dried fruit, there's no need for the water until it's time to simmer and the shelf life is also much longer.
HOW TO DRY YOUR CITRUS FRUIT
I used oranges and lemons for my dried citrus simmer pot and began by slicing them both very thinly. You can use a serrated knife to help but I find that a mandoline slicer works best. I have this set for slicing and cutting and absolutely love it.
Turn your oven on its lowest setting and line a baking sheet with parchment paper. Lay your fruit out on the baking sheet(s) and place in oven to dry out. Give yourself several hours! The key to preserving dried fruit and making sure no mold grows (aka a longer shelf life) is making sure they're completely dried out. I checked on my fruit and flipped them over each hour or so, also rotating the baking sheets every now and then.
Check your fruit to make sure it's fully dry by taking a paper towel and making sure no juice/moisture is left behind. Once you remove from the oven, allow to cool and finish drying completely before using.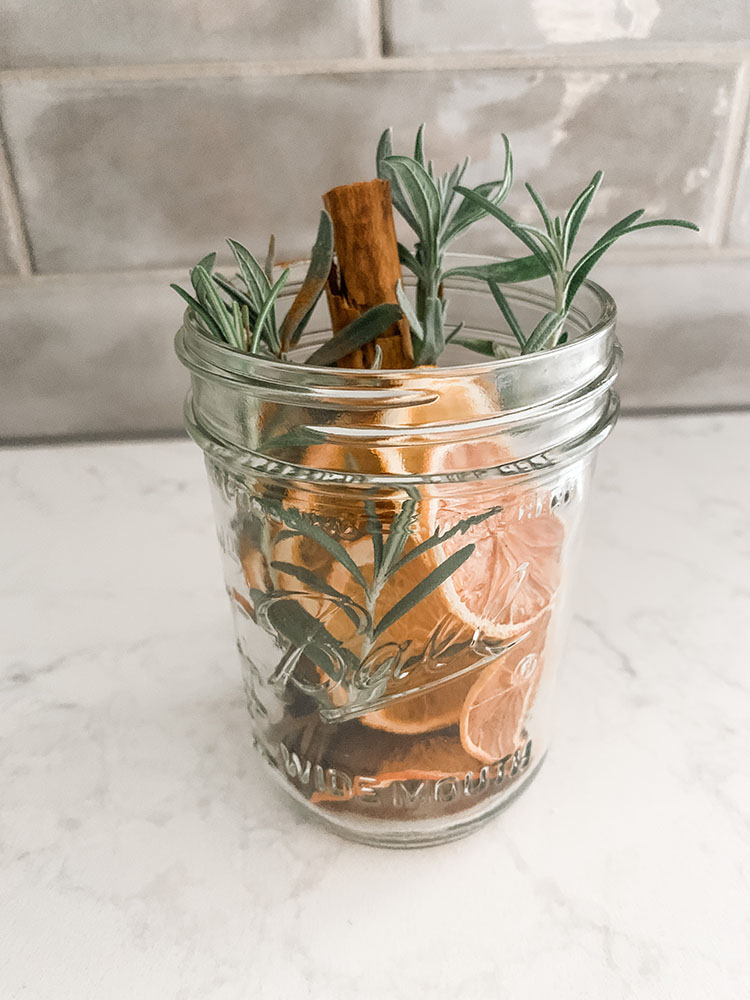 TURNING THESE INGREDIENTS INTO A GIFT
Again, feel free to use the specific ingredients you'd like or have on hand. Assembling into mason jars is about as simple as it gets. Don't feel like you have to measure things out perfectly either! Take what you have, split it up and fill your jars. Below is what I used for each of my dried citrus simmer pot jars.
3-4 fresh rosemary and lavender clippings from my own garden
Dried orange slices
Dried lemon slices
1-2 cinnamon sticks
1 tablespoon(ish) whole cloves
1 teaspoon(ish) of both nutmeg and ground cinnamon
3-4 star anise
Simply arrange your ingredients into glass jars and seal tight. I made these little sticker labels to place over the top of the jars, which I think turned out pretty cute. There's a blank version for you to use and print at the bottom of this post, too. I printed on sticker paper but you could also print on regular paper and use washi tape to attach.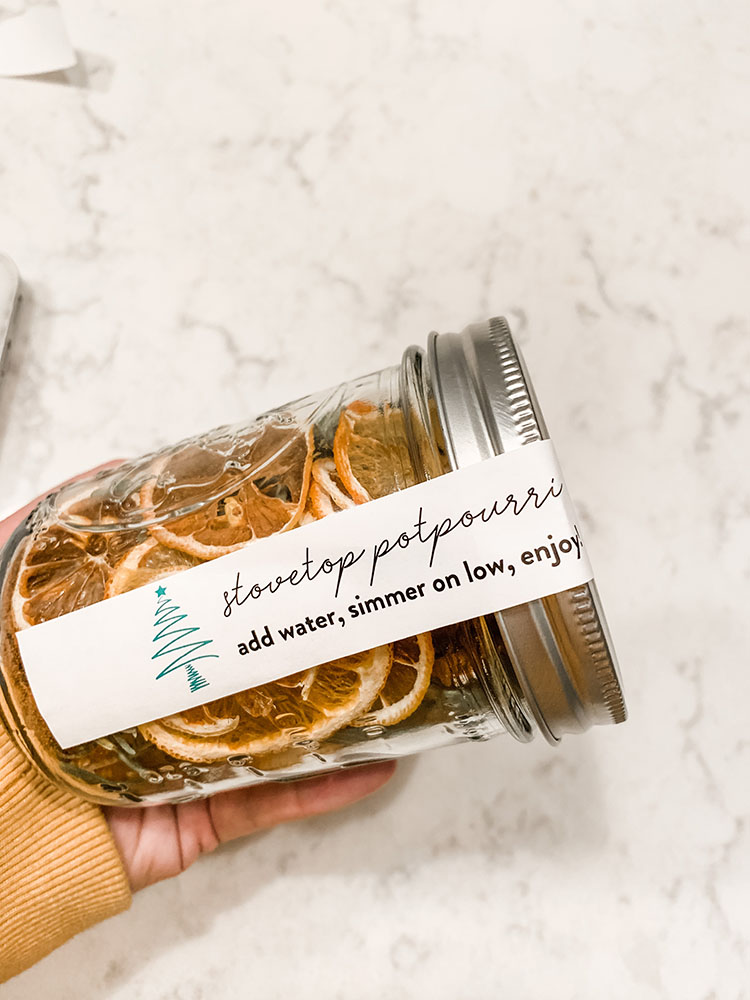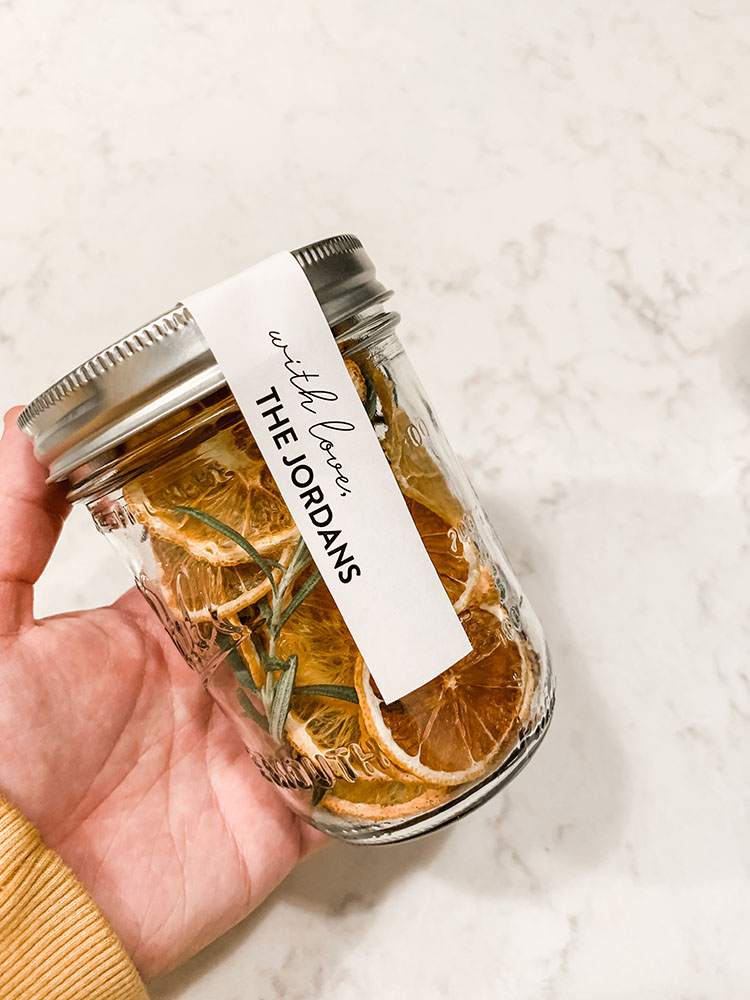 Other alternatives would be to use a little notecard, gift tag, or chalkboard sticker to share what the gift is, what to do with it, and sign your name. This does not need to be fancy to impress!
Let me know if you try this dried citrus simmer pot or if you have other favorite stovetop potpourri recipes.
Merry [almost] Christmas!
More Blog Posts to check out
Gift Wrapping + Free Printable Gift Tags
Check out all of my gift guides to make gifting thoughtful and simple!