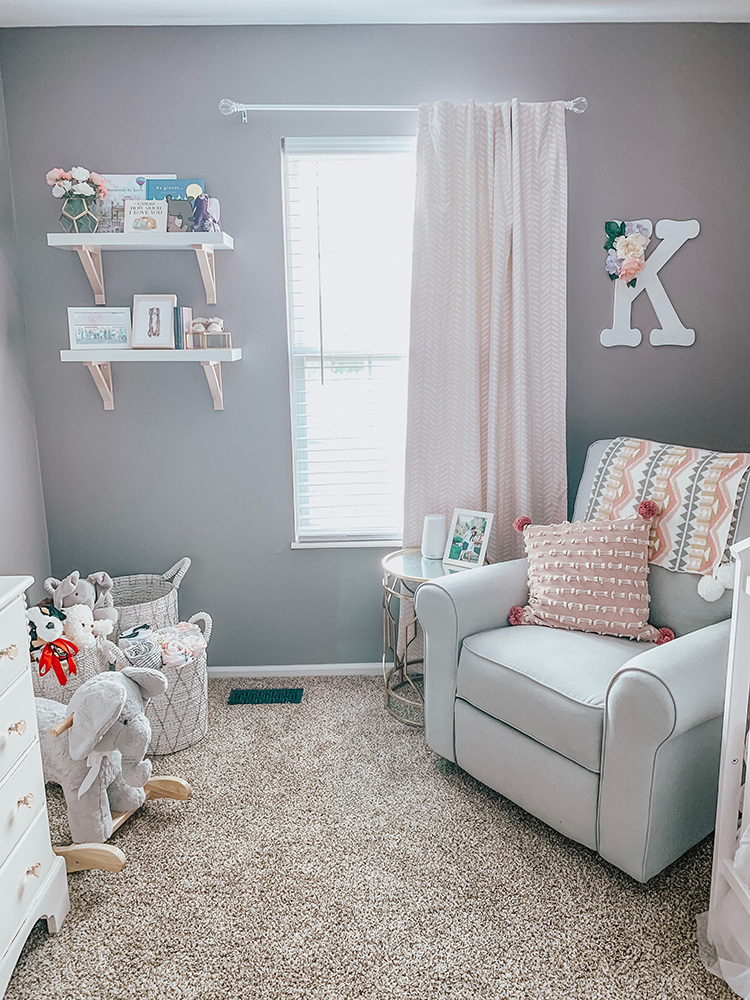 I'm so excited to finally share this precious little room we've put together for our sweet girl! I had so much fun working in here and find myself spending countless hours sitting in this glider these days just waiting for her arrival. 🙂
This room used to be our guest room and we painted it this greyish purple color when we first moved into our house. I told Michael when we found out we were expecting and started talking about a baby room that if baby was a girl, I'd love to keep the paint color the same. So, that ended up being super easy on us and I started building the whole nursery around this neutral, but feminine wall color.
Our big furniture pieces were the crib (which I'm obsessed with), a good glider/recliner, and a dresser to double as a changing table. All the other little details just slowly fell into place, like when I found this gorgeous crib sheet and decided to run with this color palette for other accents in the room.
I have to give a big thanks and shoutout to Michael Jordan, husband and dad of the century for hanging all the things and helping me with those DIY shelves and bow holder, which is one of my favorite parts of the whole room. I saw a picture of something similar on Pinterest a while back and talked him into helping me recreate it. 🙂
Now all we're missing is our cutie, who we hope to be meeting VERY soon!!! Everything in her room is linked down below but please let me know if you have any questions about anything in particular. Have a great day and thanks for reading!
crib // crib mattress // crib sheet // crib skirt // Jellycat bunny // elephant (also a sound machine) // glider // pom pom pillow // knit blanket // side table // Hatch baby rest // blackout curtain // white shelves // shelf brackets // white frames // wooden frames // moccasins // Goodnight St. Louis // puppy print // parents interview journals // baskets (found at Home Goods) – similar here // elephant rocker // changing table (antique dresser from local store + new knobs) // wipe warmer // changing pad // diaper pail // gold mirror // monitor
SHOP THE POST