Easy (and Festive) Homemade Marshmallows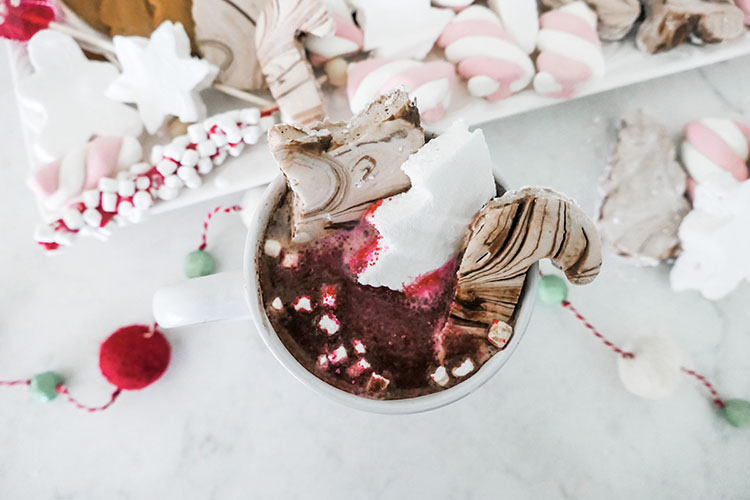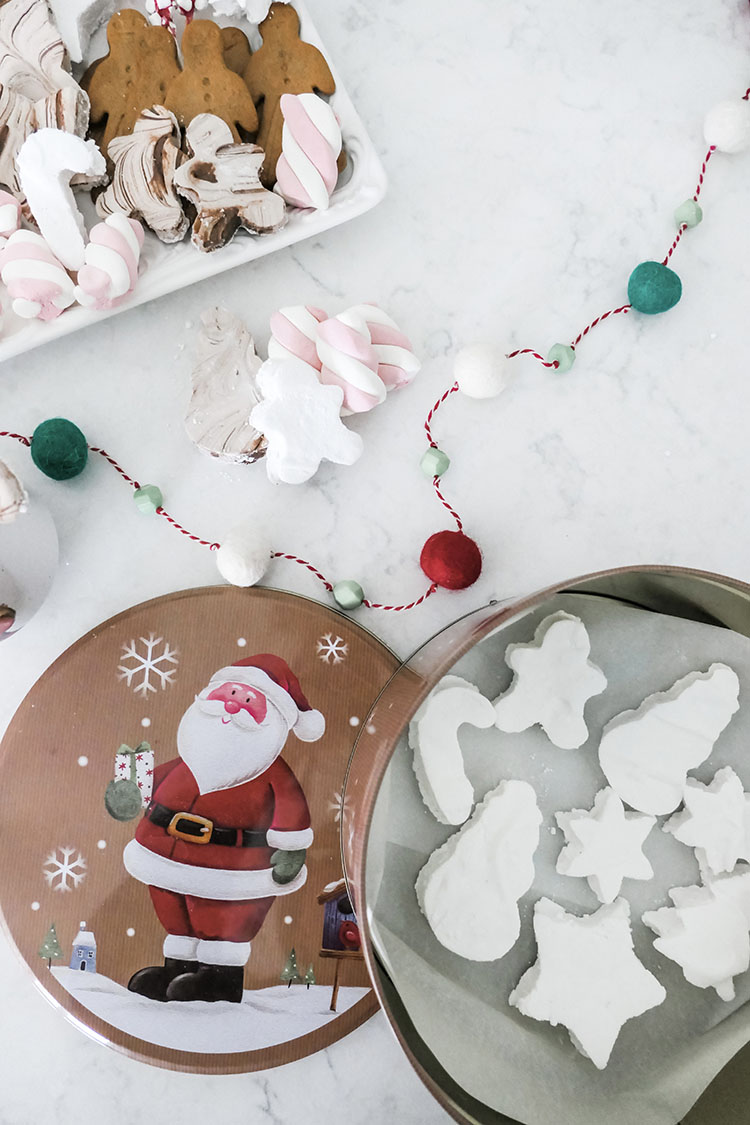 Today, December 13th, is National Cocoa Day, so what better day to share easy and festive homemade marshmallows could there be?! I'll start off by saying that neither of these recipes are my own, but I've used them both many times and they're great. This was my first time using cookie cutters to cut out marshmallows to make them even more festive and in this case, Christmas appropriate.
These marshmallow recipes are almost identical with just a couple slight variations and the addition of Nutella in one, obviously. I have to say that I'm pretty pleased with how they turned out and cutting them out into fun shapes was way more fun than just making squares or circles!
PLAIN HOMEMADE MARSHMALLOWS
What You'll Need
3 packages of unflavored gelatin
1 1/2 cups granulated sugar
1 cup light corn syrup
1/4 teaspoon kosher salt
1 tablespoon pure vanilla extract
Confectioner's sugar, for dusting
Check out this link for the full recipe and how-to.
NUTELLA MARSHMALLOWS
What You'll Need
1 cup powdered sugar
3 packages of unflavored gelatin
3/4 + 1/2 cups water
1 1/2 cups granulated sugar
3/4 cup light corn syrup
1/8 teaspoon kosher salt
1 teaspoon pure vanilla extract
3/4 cup Nutella
Check out this link for the full recipe and how-to.
OTHER ITEMS YOU'LL WANT
Candy thermometer
Parchment paper
Cookie cutters (I used this set and they were the perfect size!)
Foil cookie sheets
Sieve (not necessary, but helpful for shaking powdered sugar)
Cookie tin or another airtight storage container to keep your marshmallows fresh longer
My biggest piece of advice if you're making these is that you cannot use too much powdered sugar! These bad boys are STICKY and the powdered sugar is so important to help you get them off the parchment and also when it comes to cutting them cleanly. I found that dipping my cookie cutter(s) in a bowl of powdered sugar in between every cut really helped.
Kennedy enjoyed helping me with the cookie cutting part and although this is a messy job – remember the part about being super sticky and using lots of powdered sugar? – we had a blast together. She's a great little helper in the kitchen and thought these shapes were so fun. I said festive, right?! I meant it!
Another really fun, easy, and festive idea you could do around the holidays is create a hot cocoa bar. Basically just make your cocoa and then set up a station with all the fixings. Everyone can create their own hot cocoa just to their liking! Below are some ideas for putting together a great hot cocoa bar.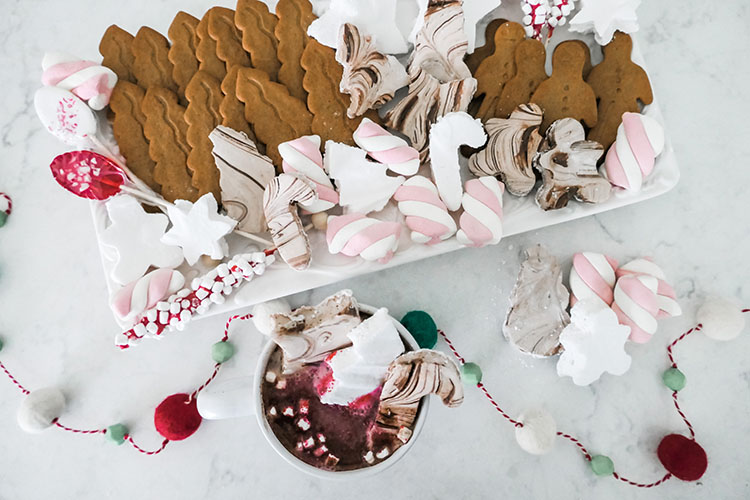 FOR A HOT COCOA BAR
Your favorite cocoa (a must, obviously!)
Fun mugs
Peppermint or chocolate spoons
Mini marshmallows
Sprinkles
Whipped cream
Gingersnaps or other yummy cookies
Peppermints
Candy canes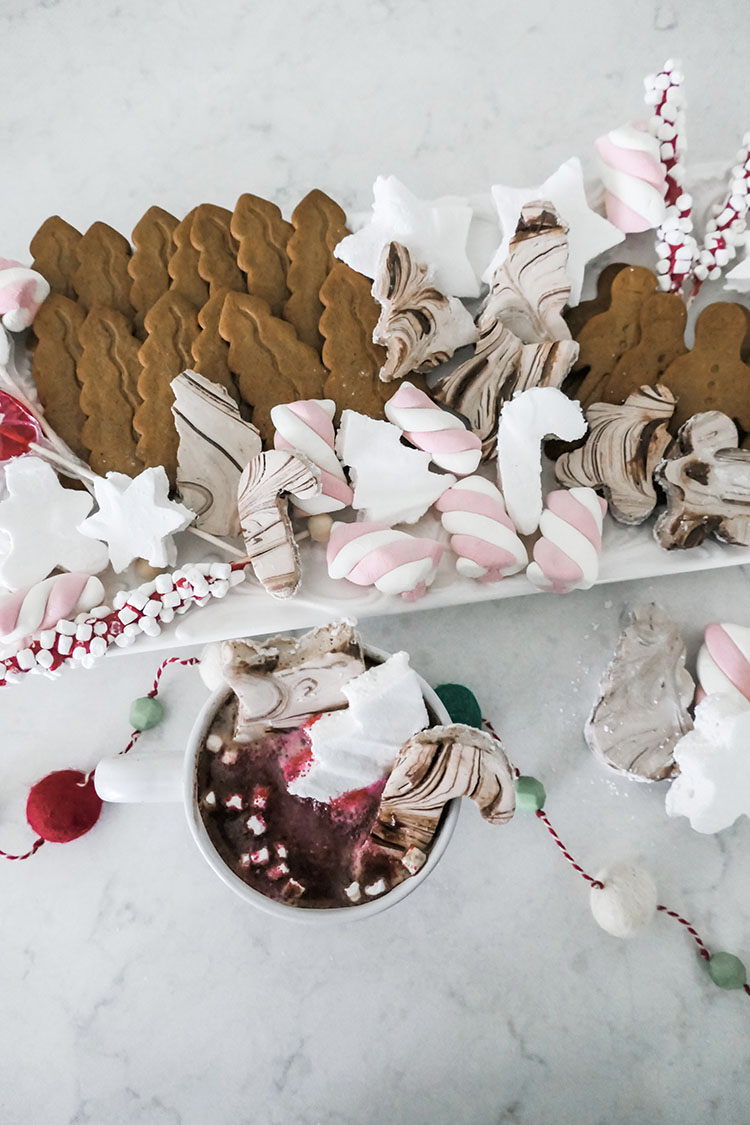 I shared this as part of a fun celebration of National Cocoa Day with some Instagram friends. To check out all of their cocoa-inspired creations, recipes, and ideas search the hashtag #HotCocoaMamas. Feel free to use the hashtag to share your own cocoa ideas, too.
Thanks for stopping by! I hope you got some inspiration and that you'll try these easy and festive homemade marshmallows for yourself. They are sooo tasty!
Check out all my other holiday inspiration here.