Most Recent Home Build Update
A lot has been happening over at our property, so I thought it was about time for a new home build update. Each time I post videos or pictures from visiting the site, I get a lot of the same questions, so here's a general update for you.
How many acres do you have?
We have about twenty acres but not all of that is buildable. A lot of what surrounds us is woods and a large ridge.
Where are you at in the design process?
We are getting SO close with the main level in particular. We have gone back and forth with our architect several times and are now at the point of really fine tuning the details. Talking about things like door size and style, windows, and trying to get the plans in tip top shape.
The house will also have a basement, which we are still working on, but it won't be fully finished right away. So that space is more about having plans in place for what we intend to do down the road. We know for sure in the basement there will be a home gym and full bathroom next to that.
We had an amazing meeting with our architect last week where we were basically handed off to one of his associates because the plans are in really good shape. Next we will start meeting with different suppliers to begin the process of picking things out like hardware, cabinetry, flooring, etc. I can't believe we're almost to that point!
When will you break ground/move in?
Our hope and plan all along has been to break ground Jan/Feb 2022. Right now we are on track for that to happen. Our builder told us he thinks the building process will take 9-12 months, so there is a SLIGHT CHANCE we could be in the new house by next Christmas. That would be a dream. We are fully aware that materials, contractors, and the like are not the easiest to come by right now though, so we are holding that timeline with a very loose grip and a lot of grace.
What are you most looking forward to?
Having a home that we dreamt about together for years and a place were our kids can grow up and come home to for the rest of their lives. We never thought our home building process would start at this stage of our lives, so we are just so excited that this new home will truly be the home all our kids know, love, and remember forever.
I'm also looking forward to creating a place where our family and friends, and eventually our childrens' friends, can gather. I love hosting and opening our home to others and having a house that is literally built with that purpose in mind is going to be incredible and such a blessing.
What is your favorite room in the house you're planning?
This is a GREAT question and honestly, my answer could change daily based on my mood haha. I think overall though, I am most looking forward to our main living area. The kitchen, dining, and living room will all be open to one another and I think it's going to allow for awesome entertaining opportunities as well as keeping the family close together.
I'm also excited about our back kitchen, which is essentially a prep/butler's kitchen behind the actual kitchen. It will be fully loaded and stocked with overflow appliances, while also acting as our pantry. It's going to be a very cool and extremely functional space for our family.
What is your home style?
Throughout this entire home build process, the word we keep using to describe our house is COZY. The house will be larger than our current house (we want to grow into it and stay forever) but what we keep coming back to is how we can make it cozy and intimate feeling. There is no grand foyer or massive entry when you first come in, zero vaulted ceilings or high ceilings at all for that matter, and we actually asked them to make all of the bedrooms smaller than the original plan showed.
My hope, from the moment you walk in, is that you feel cozy, comfortable, and welcomed.
In terms of the actual style of our house, I would say it leans modern farmhouse. We're living on a bunch of land, so it only seems natural that our home would have that sort of feel. Light and bright colors, wood elements, neutral tones, tons of windows and natural light. I'm really excited about what the front elevation is shaping up to look like!
Plans for the outdoor space?
I want a large, inviting front porch and have always dreamt of a front porch swing. So far, that's happening and I'm super excited about the renderings. Off the back side of our house, we will have a covered patio, where we plan to put a large table or seating for dining. There will also be a small slab next to the covered patio that is uncovered, for additional outdoor seating. Already imagining hanging string lights over this area for a dreamy little sitting area.
I'd also love to put a tire swing or large rope swing from one of the big trees in our backyard for the kids. TBD on where that will happen.
FUTURE RENOVATIONS
Our hope with planning all this out is that we won't ever have to live through a major renovation or anything like that on our main floor.
As already mentioned, we won't be fully finishing our basement right away, so that will be a future area to deal with. Our thought behind that is that we really just don't need the space down there, aside from a workout space and bathroom. And a large storage room! Ultimately we'd like the space and plans to add a couple additional bedrooms when kids are much older.
Two things that are WAY down the road would be a pool and outdoor entertaining area. The outdoor entertaining area was inspired by a house Michael and I stayed at in Fort Worth a few years ago. We've talked about it ever since and hope to add that to the back of the property someday. And maybe a pool someday, when the kids are a little older. No plans or rush on either of those though, so time will tell!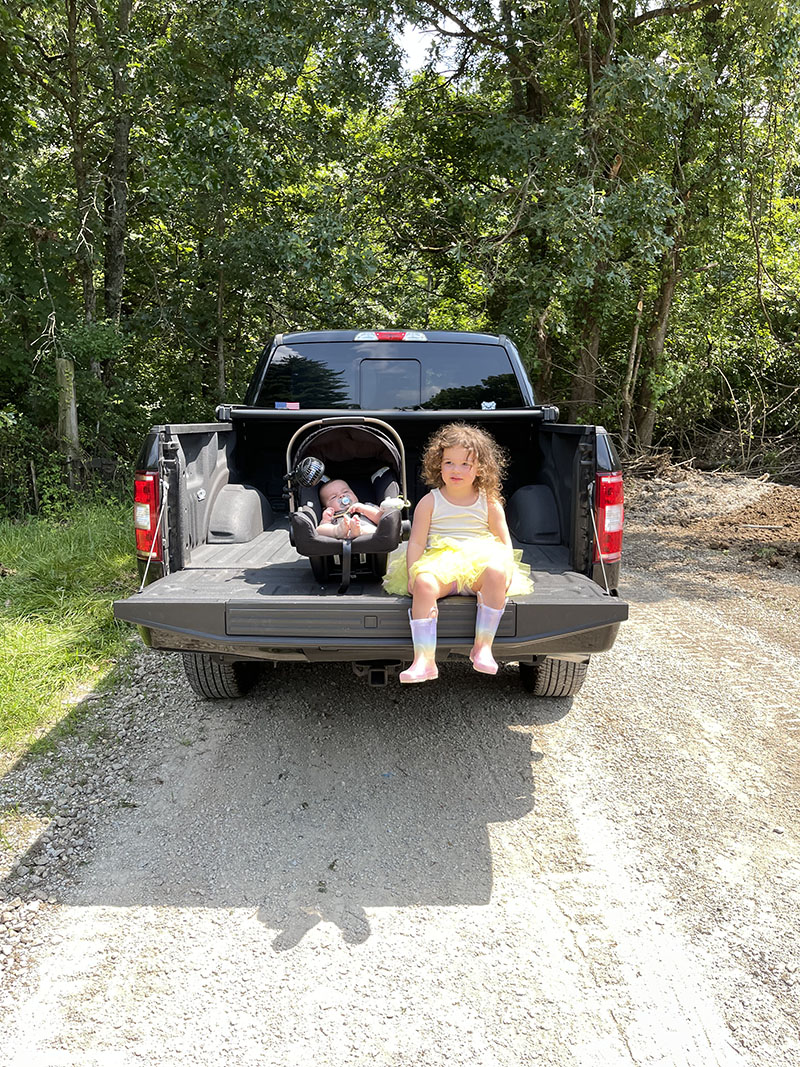 UNTIL NEXT TIME
Okay, I think that's it for today's home build update. That's a lot! Hopefully I answered some of the most FAQs and you have a good update as to where we're at with things. The next few months will be busy with decision making and getting into those nitty gritty details. Promise to keep you posted on all the fun that is yet to come.
Talk soon!