How to Do a Pre-Holiday Toy Purge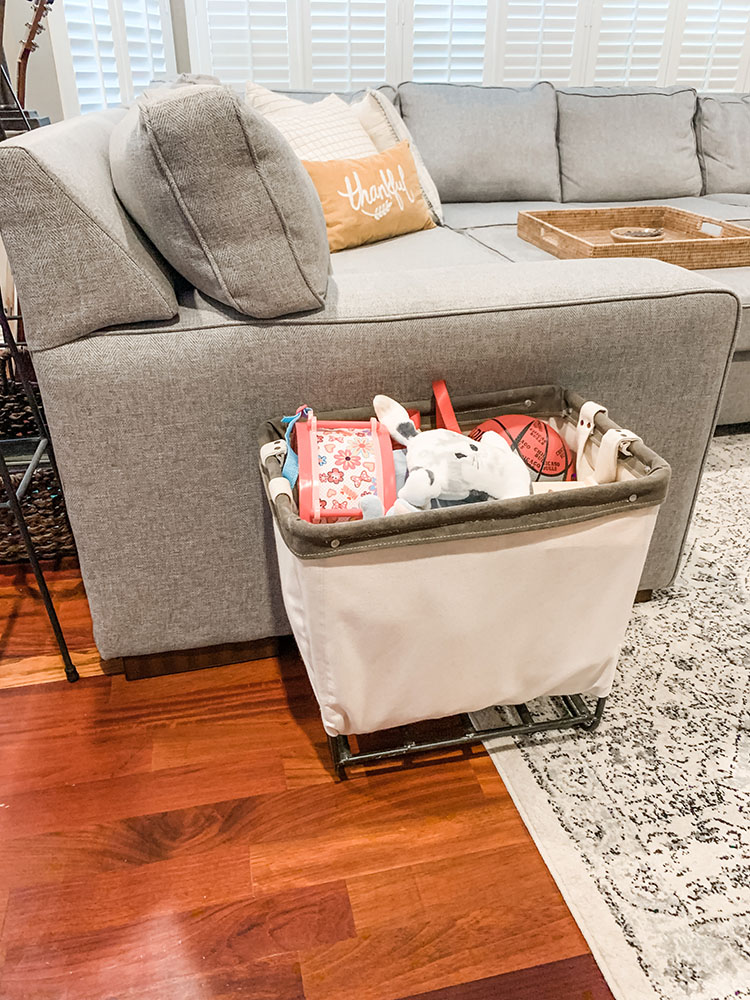 I can't be the only mom out there who insists on a pre-holiday toy purge, right?! The holidays are great but can also be overwhelming considering the amount of new things coming into your house. We've always been pretty minimal with Kennedy's toys and rotate, donate, and purge them often. Before a birthday or holiday can be an awesome time to do a toy purge though, so here's your chance.
If you've been around for any amount of time, you might remember that I was a professional organizer before starting my blog. I love all things organizing and you can check out other organizing posts here. My process for a pre-holiday (or any) toy purge is super simple. But in case this is a new concept or you don't know where to start, I'm here to help!
GO THROUGH EVERY SPACE IN YOUR HOUSE THAT HAS TOYS
For us, this is Kennedy's room and our living room. Go through every bin, basket, toy chest, drawer, etc. Leave no space unturned. Take everything OUT and lay it where you can see it all. You need to empty the space(s) before determining what to do with it all.
MAKE PILES
My go-to piles are keep, toss, and donate.
Anything you know is a for sure a toss, throw away in a trash bag right then and there. In my mind, those are toys that are broken, missing pieces, or just not in good shape. Toys that are still in good condition but have run their course in your house make for great donations. I have a few places that I love to donate and if you have anything nicer, like clothes or baby gear, you can always try to sell. Passing off toys to other mom friends is another great idea.
When it comes to the keep piles, I have a couple categories when it comes to doing a toy purge. If it's a toy that I know Kennedy isn't done enjoying, it stays. Simple. However, every now and then there are those items that someone gave to her that we don't necessarily want to part with but also don't need in our everyday spaces. For those items, we have a bin that we keep in our storage room labeled "Kennedy Special".
I'd highly recommend starting a bin like this for anything special you want to keep for your child(ren) that doesn't need to be easily accessible for regular use.
REHOME ITEMS
This is the time when you can reorganize and rehome toys into bins, baskets, toy chests, or the like. I use various things for organizing toys but am really big on containing things. Organizing products can be super useful to make your home more functional. At the same time, it's also great for kids to learn about keeping things clean and helps practice categorizing. Use your organizing and toy storage as a tool for teaching your kiddos about those things. We've done this since Kennedy was very young and she is honestly SO helpful, and usually very happy, when it comes to cleaning up! God bless her.
You can contain in everything from bins, baskets, cubes, toy chests, etc. Check out some favorites here:

NOW WHAT
So now that you've done the hard work ahead of time, you should feel a little more comfortable with the idea of having new stuff coming into your house. Let's be honest, this is inevitable with children and holidays! I really believe a pre-holiday purge will give you so much peace of mind heading into the holidays and highly recommend trying it out.
Call me Type A, but I'm also a big believer in giving family members specific ideas for gifts for Kennedy. Michael and I will talk about a few things that we truly think would be fun, useful, or a good addition to our home and give our family ideas. This also really helps us cut down on the, ehh, crap, that kids have.
If you have ample space and don't mind what comes into your home, feel free to completely ignore that little tidbit. For us, we value quality over quantity, so the little cheap things just aren't our priority. That's not to say that Kennedy doesn't have little or cheap toys… those just aren't the majority of our toy items and usually not what we're asking other people to gift her.
I'd love to know if you have any other thoughts on how to declutter ahead of the holidays and/or what kinds of gifting rules or perimeters you use in your family. I've heard many people use the "want, need, wear, read" concept for kids, which is brilliant. Let me know if you have any questions about doing a pre-holiday toy purge and if you go for it, be sure to share!