Plant Beautiful Summer Pots and Planters
I've shared some of my favorite places to buy flowers but this post is all about creating your own beautiful summer pots and planters. As an ameateur wanna-be gardener, I'm going to teach you what I've learned about picking the right plants, filling space well, and creating pots and planters that you will be proud of.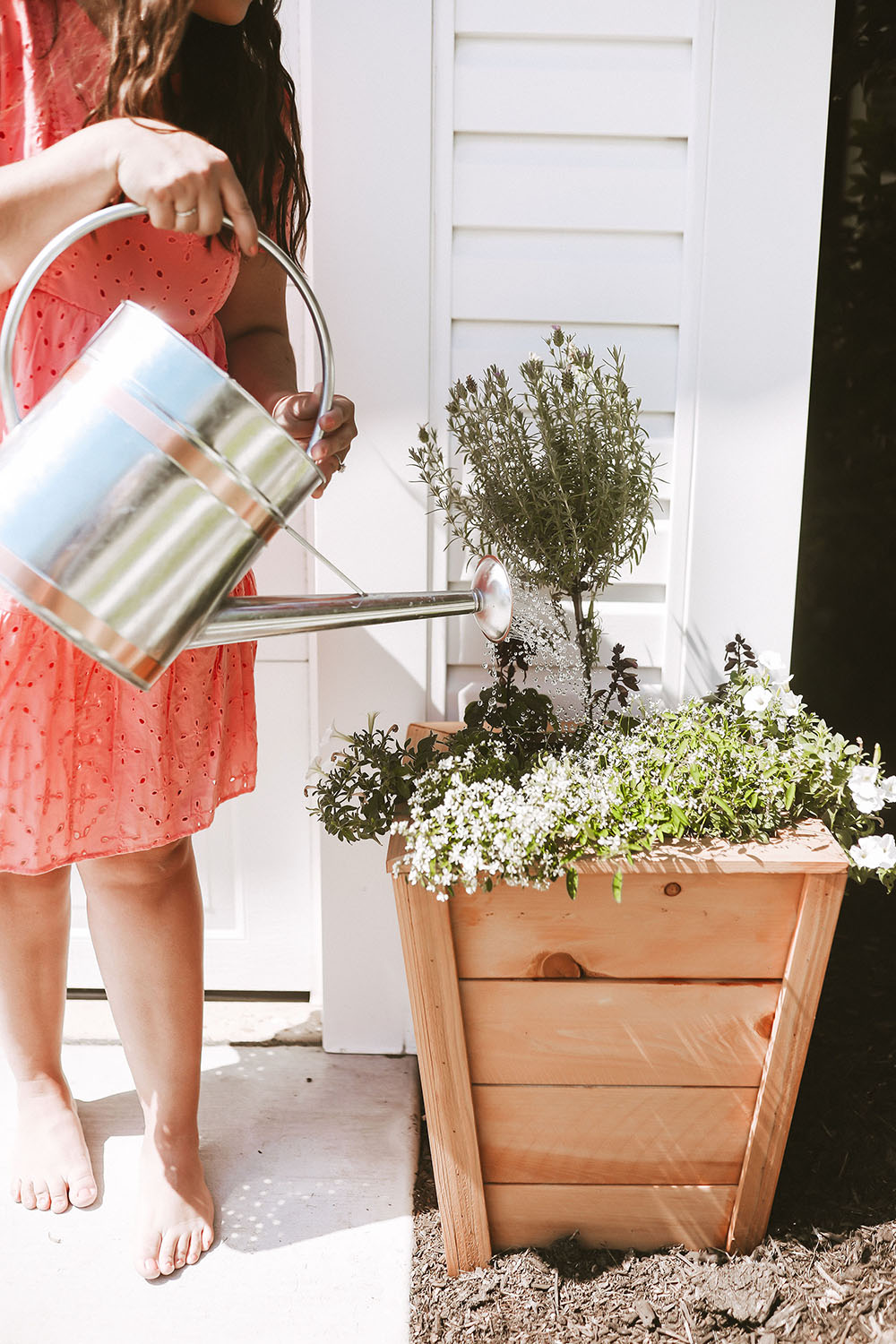 Post may contain affiliate links, which allow me to receive a small commission on purchases you decide to make. As an Amazon Associate I earn from qualifying purchases.
Obviously, you'll want to start with a planter (or two or three!). Depending on the size you have, that will help determine the size and number of flowers/plants you choose. Look for something that will have a good drainage system and bonus points if you find planters that already have a built in plastic liner box (mine do, thankfully).
PRO TIP
If your box or container doesn't have drainage holes in the bottom, be sure to add a few of your own. This will help make sure your soil drains properly, which is super important. For a large container, the bottom with a "space saver" so you don't have to use as much potting soil. You can use anything from rocks to old soda cans/bottles to pieces of styrofoam. Add a small layer (newspaper, cheese cloth, landscaping fabric, etc) between the space saver material and then top with potting soil. You will save SO much soil doing this!
Here are some gorgeous planters and boxes in various sizes, shapes, and price points. The exact planters I have on either side of my garage are these here. I am SO pleased with them and they've held up wonderfully for nearly two years now.

There are three main categories you want to keep in mind when purchasing plants and flowers. Thrillers, fillers, and spillers. I did not come up with these clever names by the way, they're commonly used when talking about planting! Also keep in mind whatever varieties you do choose, you should know ahead of time where your planters are going and how much sun/shade they will receive. This will help you purchase appropriate flowers to thrive in those conditions. Read labels closely and make sure what you buy will work for your space.
THRILLERS
Think of this first category of thrillers as a focal point. You want your thriller to be the tallest thing you plant and maybe something a little special. On mine, the thrillers are these gorgeous lavender trees. They're a statement and they are also the tallest of all my flowers. Other ideas would be a large dahlia, geranium, hydrangea, lemongrass, or other grassy plants. These are planted in the center or the back center of your planter.
FILLERS
Next, you'll want a few mid-height options to start filling in the planter more. These should be shorter than your focal point and basically fill in around the focal point you've chosen. My planters have medium height salvia plants as well as some petunias for accents. Many fillers will be rounder (like petunias) or grow horizontally in order to fill up the space. Other good accent flowers would be heliotrope, daisies, roses, or a shorter geranium.
SPILLERS
Finally, you want some low, ground covering flowers that will spill over the planter for a pretty and dreamy look. This sort of grounds the entire planter by allowing some things to cascade over. I chose euphorbia for this planter and so far, as it continues to creep the more it grows and get even prettier with time. Verbenia, bacopa, ivy, and lobelia are more great options for trailing plants. These are placed on the edges of your planter and are allowed to spill over the edges.
RECAP
With a little bit of planning and understanding the different categories for nailing beautiful summer pots and planters, you're well on your way.
Pick your planters or containers. Make sure they have drainage and then fill them.
Keeping in mind WHERE you're going to place these planters, pay attention to the sunlight or shade they get and choose plants and flowers that will thrive there.
Thriller (a tall statement flower or plant) + Fillers (3-4 flowers that are a mid height) + Spillers (low trailing fillers to drape over the edge).
Play with texture, color, and size. Good planters are those that use all three of those categories to create height, dimension, and variety. I also like sticking with a color palette, which you can see here was purple and white.
MORE HOME PROJECTS