Five Tips on How to Style Built Ins
How to style built ins (and bookshelves in general) can be such a tricky thing! I absolutely love the way they look but styling them can feel daunting. When we moved into our house last year I was equal parts excited and unsure about what to do with these gorgeous built ins in our living room.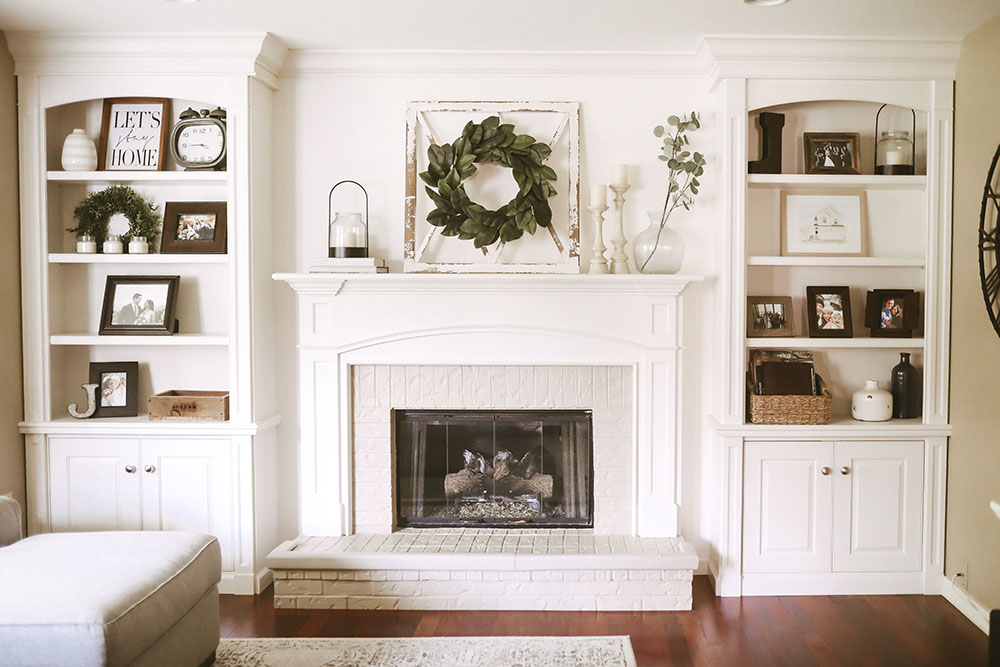 With A LOT of trial and error, testing things out, and moving pieces around constantly (for a good couple of weeks) I finally settled on how I wanted these shelves styled and now I LOVE them. They are simple and not overcrowded, but showcase special things to us like an illustration of our first home, wedding photos, and a basket of treasured books.
Today I want to walk you through a five simple tips to keep in mind if you're feeling stuck on how to style your own built ins. I'm no expert here but after my own research and playing around, these are a few things that have helped me learn.
GROUP IN ODD NUMBERS
This is sort of an interior design basic, so you might already know this one from arranging pillows on a bed or couch. There's something about odd numbers that just seems to work with interiors. You can apply the same principle when styling a shelf or built ins.
Keep in mind this doesn't mean you can't have more than three items on any given shelf. Instead, the idea is that you would "group" items in odd numbers to please the eye. Examples of this on my own shelves are three small candles I have grouped together or three picture frames. I do, however, try to keep the total number of items on a shelf odd. Again, that could be three, five, seven, etc…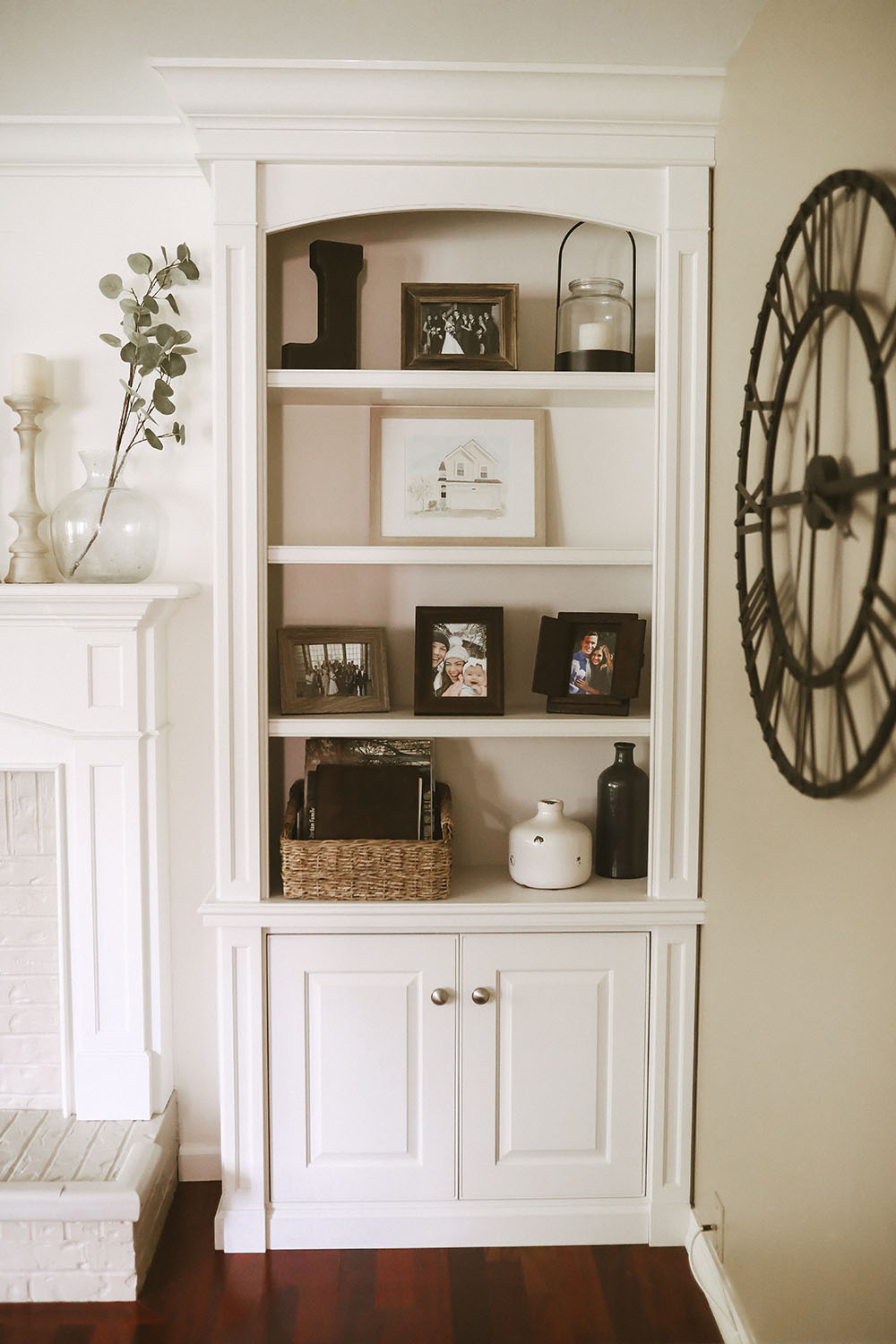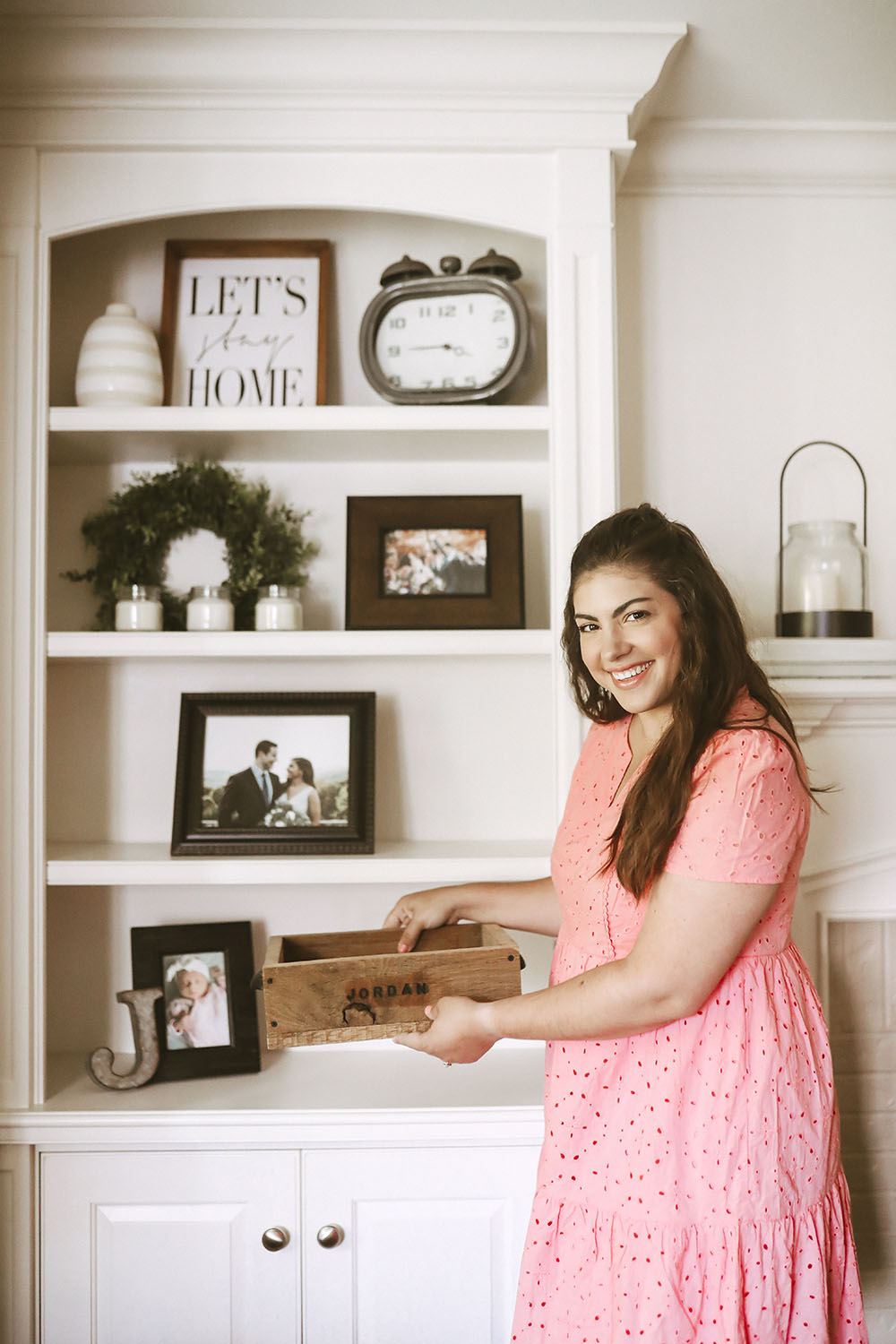 TRIANGLES
Triangles are another great way to draw the eye's attention to certain details while also being a pleasing shape to follow. A good example of this is actually my mantle. The largest item, the wreath and frame, is centered on the mantle with items on either side that taper down.
Your triangle doesn't always have to be in the center of a shelf, so think of it more like you would with the odd numbers. Focus on creating smaller groupings of things on large shelves and try to think about a triangular shape (and odd numbers) when doing so. You may be surprised at how nice it looks.
HEIGHT
Playing off of the triangle concept, I should mention the importance of varying your heights when it comes to styling built ins or any shelf or mantle for that matter. Even if you're not creating a perfect triangular shape on every shelf or in every area, which is completely fine by the way, you should most definitely play with heights.
You don't want everything being the same height, or size for that matter, across the board. That will result in a pretty dull and flat appearance. Play with height and if you have something that's a little too short, get creative on how to raise it up. I love using books, tiny pedestals, really anything I can find around my house.
TEXTURE
Texture is one of my favorite ways to play with design. I love faux greenery, wreaths, and mixed materials like wood, glass, and tin. By adding different textures in the materials you style with, your design is going to be much more interesting to look at.
I stuck to a pretty consistent and neutral color scheme for our built ins because that's sort of our home and our style. The one thing that I think makes a huge difference in this room is the pop of green on the mantle and on the shelves. Greenery always warms things up and gives a room a bit of life (even if it is faux). I also really like that none of my picture frames match. For someone who is very Type-A, that might surprise you, but in this instance it just works!
LAYERING & DIMENSION
Alongside the idea of texture and mixing up your materials, you want to think about layering items and adding dimension to your shelves. Just like you don't want everything to be one height, you also don't want everything to have the same depth of field. Some items should be pushed back further, while others are closer to the edge or maybe take up more room. You might also layer something like a wreath and candle (seen on my own built ins).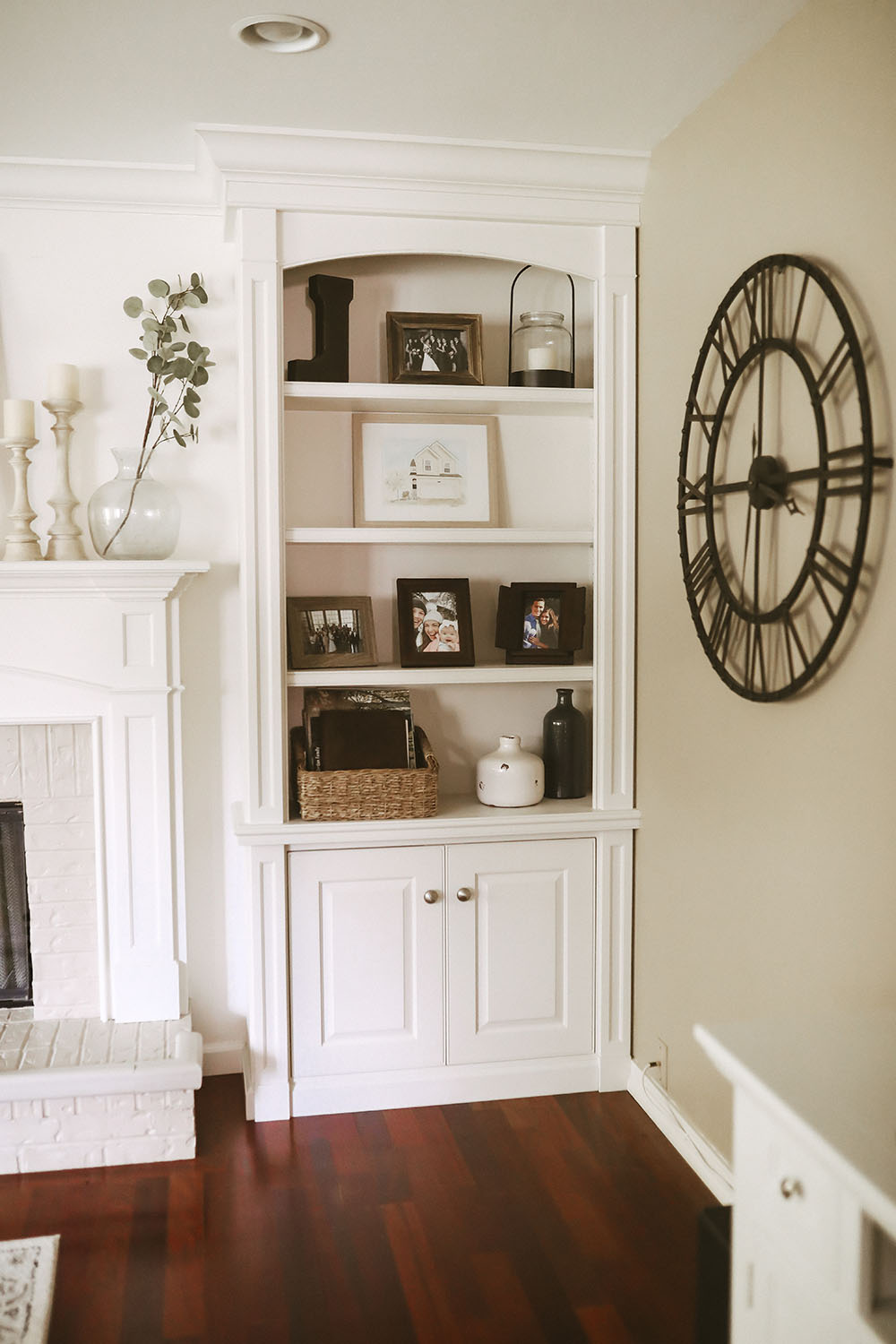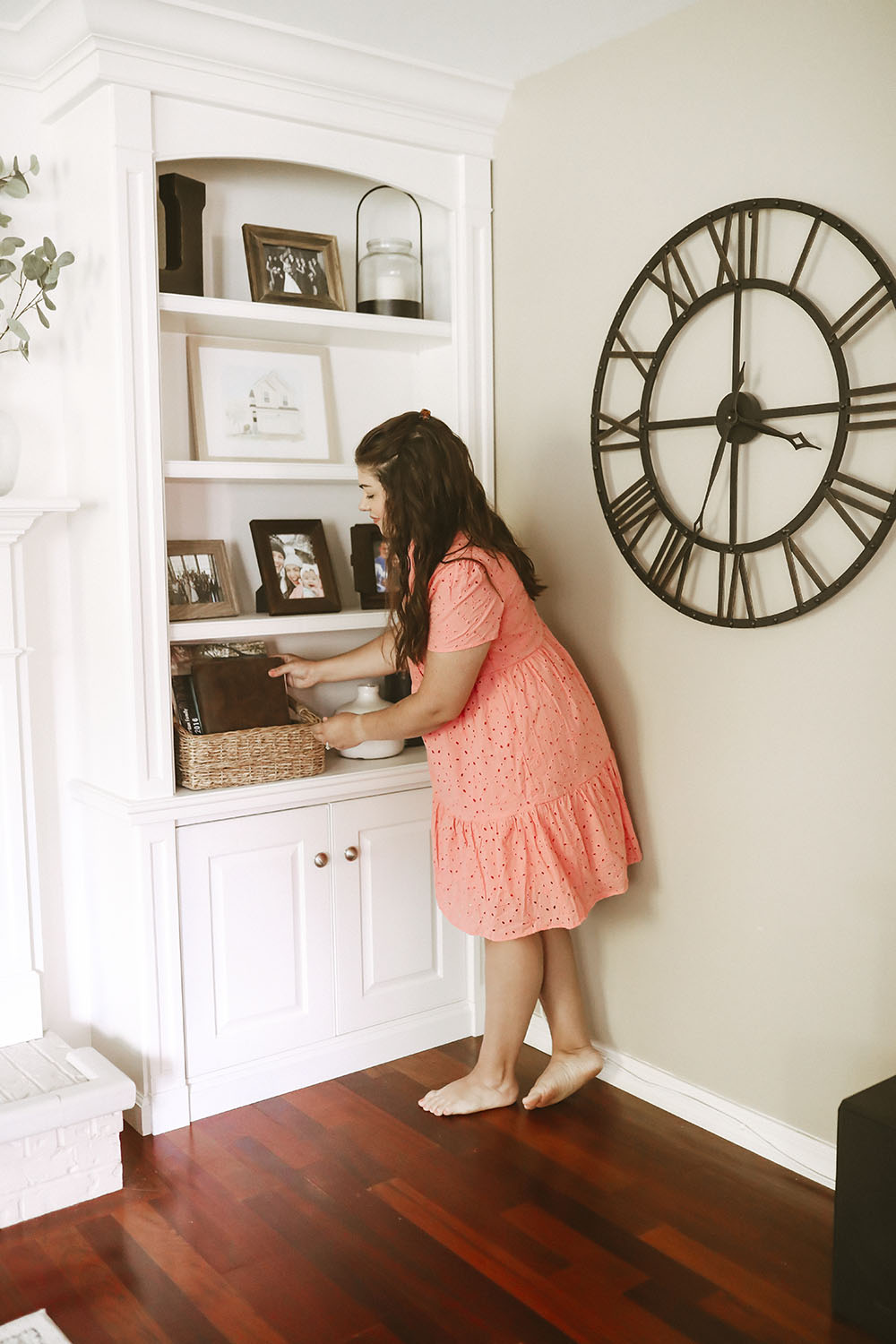 IN SUMMARY
Five simple tips and tricks to try and help you master the art of how to style built ins. My formula is far from perfect but after a lot of practice and learning, I hope these concepts will prove to be helpful to you. If nothing else, just keep the basic principles of odd numbers, triangles, height, texture, and layering/dimension in mind. You've got this!