Favorite Things: Eight Months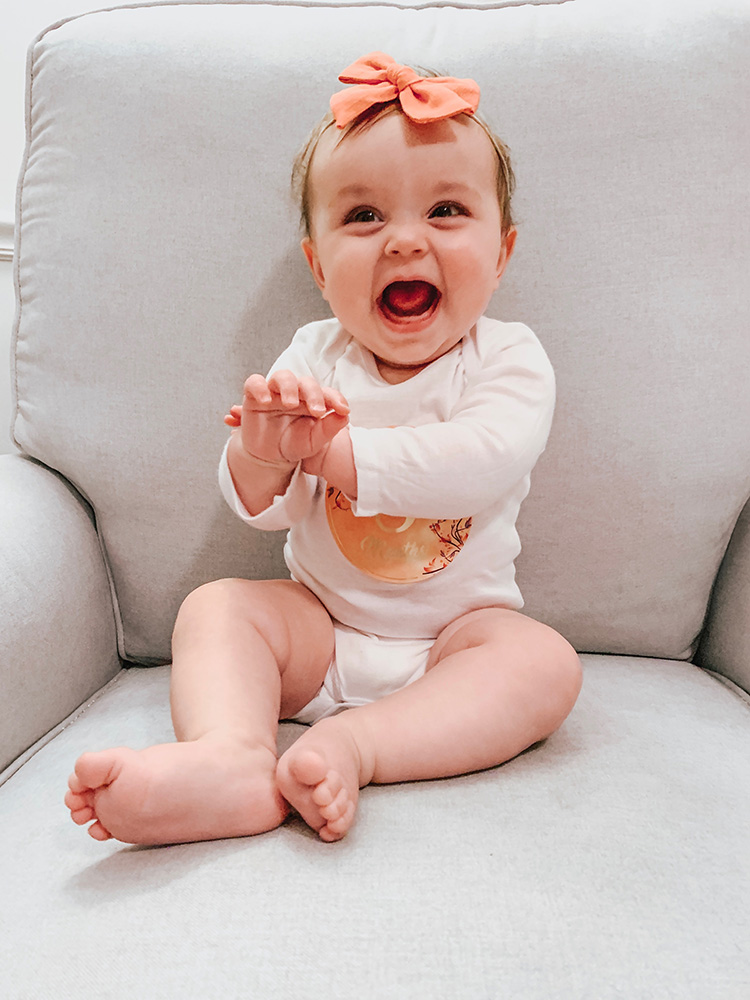 Our girl turned eight months on Saturday, so it's time for a little check in and update of our favorite things! Kennedy is at such a fun age and has had some super exciting moments in the past several weeks. In addition to sitting up and being verryyyy close to crawling on her own (!) we've also taking the plunge into Baby Led Weaning, which has been super fun. It's crazy to see Kennedy eating big girl foods like avocado, peaches, tortillas, and eggs.
If you're unfamiliar with Baby Led Weaning (or curious to check it out for yourself) its' essentially the idea of letting babies feed themselves and doing so with real food, as opposed to baby food/purees. If you read into the science of it, it makes so much sense why you'd want to introduce your baby to food this way and for us, it's been a blast to let Kennedy explore so many different things. I'm no expert but have found a ton of information from following the Instagram account Feeding Littles as well as using their website as a resource for how to go about doing this. If you have questions, feel free to message me more. I'd love to share how we're approaching all of this.
Now on to the fun stuff: favorite things for an eight month old!
Duck Tub – Since Kennedy can sit up on her own now, it was time to upgrade her bath situation and this has been a funny but helpful tool. Someone also suggested taking it with us to the lake for her to hang out in while we were on the dock and that was an amazing idea! She loved it and I felt much better about having a place to contain her a bit.
Pool Float – Speaking of water, we got this pool float to use at the pool this summer and so far it's been a big hit. It's meant for babies who are able to sit up and closer to 8-9 months but this version is perfect for smaller babies.
Bella Tunno Bibs – With Kennedy feeding herself, meal time gets pretty messy and these bibs are the BEST! Not only are they cute with fun sayings but they're silicone – aka easy to clean – but they have the little catcher for all the food she drops haha.
Bubble Machine – It's officially summertime in St. Louis and we've been spending a lot more time outside with Kennedy lately. She loves bubbles and I just picked this bubble machine up over the weekend. As Michael put it, " this things makes more bubbles than Willy Wonka's factory!" So there ya have it, people. 😉
Bubble Shorts – I snagged a ton of these bubble shorts from Old Navy earlier this spring during a big sale and it's finally warm enough for Kennedy to be wearing them. They're so cute and fun for summer. We have lots of bright colors and a few fun prints. Definitely a good summer purchase!
Nanit Baby Monitor – We made the switch to the Nanit monitor just in the last week and wow, we are impressed so far! The video quality is unparalleled to our previous monitor (or any I've ever seen before), it works right from your phone, and was extremely easy to setup. Thinking of maybe sharing more once we've used it a little more, but so far, I can absolutely recommend it. A splurge? For sure. Worth it? I think so. *We also got the Multi Stand to use for travel!
Let me know if you have any other fun things we need to try out this month! I always love hearing what other kiddos and parents are loving. Talk soon!
xx Alex
Previous Kennedy monthly posts here: