Dining Room Reveal & How To Choose a Light Fixture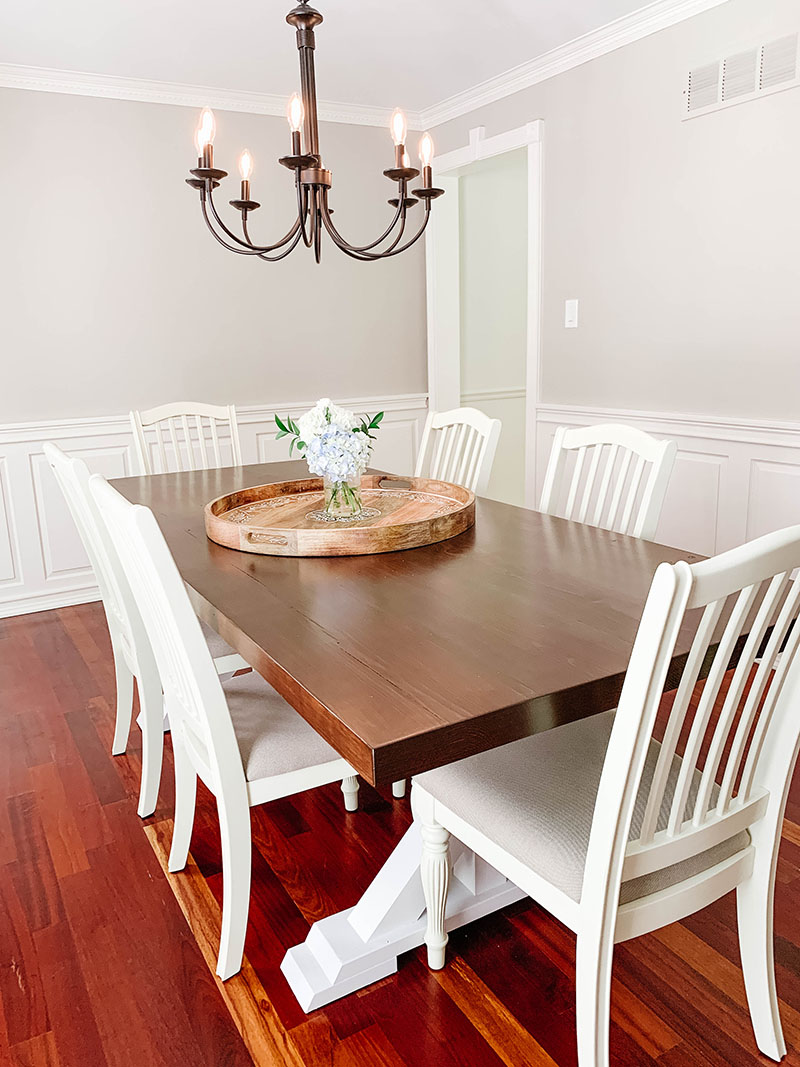 I'm so excited to share the first room in our new home with yall today. Considering we haven't had to paint or do much work to the inside (thanks to our previous owners who put in a lot of hard work and effort to make this home beautiful), the dining room has for sure been the biggest transformation. Really, it all came down to a light fixture.
If you see our house or know us at all, you will quickly find out that our home style is very much in the farmhouse vein, so I'm sure it's no surprise that the below dining room fixture wasn't really going to work for us… luckily we found a great new chandelier and had it replaced quickly and easily by our friends at Hoffmann Brothers.
Hoffmann Brothers is a St. Louis company that's been serving the area for over 40 years and does everything from plumbing, HVAC, appliance repair, and electrical. Remember when our AC unit went out after we'd been in our new house for, oh I don't know, like one week? Hoffmann Brothers came to our rescue and had someone out to our house immediately. They even brought us window units over the weekend to keep us cool until our entire system was replaced on Tuesday. Life savers! But let's get back to business… this light fixture!
Okay, so one thing I had ZERO clue about is how to choose a light fixture for a dining room. We didn't switch out any fixtures in our last house, so the whole process of picking out and installing a new light were kind of foreign to me. After a lot of research (I research everything), I finally found some great advice that helped me narrow down what made the best sense for our room/table.
Here are the basics of choosing the right size chandelier for your space:
Diameter
First things first, you have to take a look at the diameter of your chandelier and make sure you're getting something that fits the scale of your room and table (if applicable). The larger the space, the wider the chandelier. Seems fairly obvious? Two measuring thoughts in regards to this:
The sum of the room's length + width is equal to the diameter you should aim for (in inches)

For placing a fixture above a dining table, try to to shoot for a diameter that is 2/3 – 3/4 of your table's width
Height
The taller your room, the taller the chandelier. Again, fairly obvious, as this is all about getting the right scale. One recommendation I read said to multiply your ceiling height by 2.5-3 to get the right height in inches. Most of what I found in my research said for a standard 8-foot ceiling, go for a chandelier that is 20-24 inches tall. Our ceilings are 8 feet, so that's what I followed.
I was also told by our awesome Hoffmann Brothers electrician, Adam, that the standard height to hang a chandelier above a table is 30 inches. Goal is to make sure you can easily see across the table and pass things around without having to worry about knocking your head on a light!
Based on these guidelines, I was shooting to find a chandelier with a 26-28 inch diameter that was 20-24 inches tall. Enter this beauty, which fit the bill perfectly!
Since we have a Home Protection Plan with Hoffmann Brothers, we get to take advantage of 15% discount on repairs, 5% discount on installations, priority service (within 24 hours if you have an emergency), 2 annual tune-ups and free AC filters for life – read more about the plan here. We were able to have an electrician out to replace this fixture and help our dining room to feel more like us! Adam was awesome and actually came back out to the house earlier this week to replace the dimmer switch for this same light with a more updated one.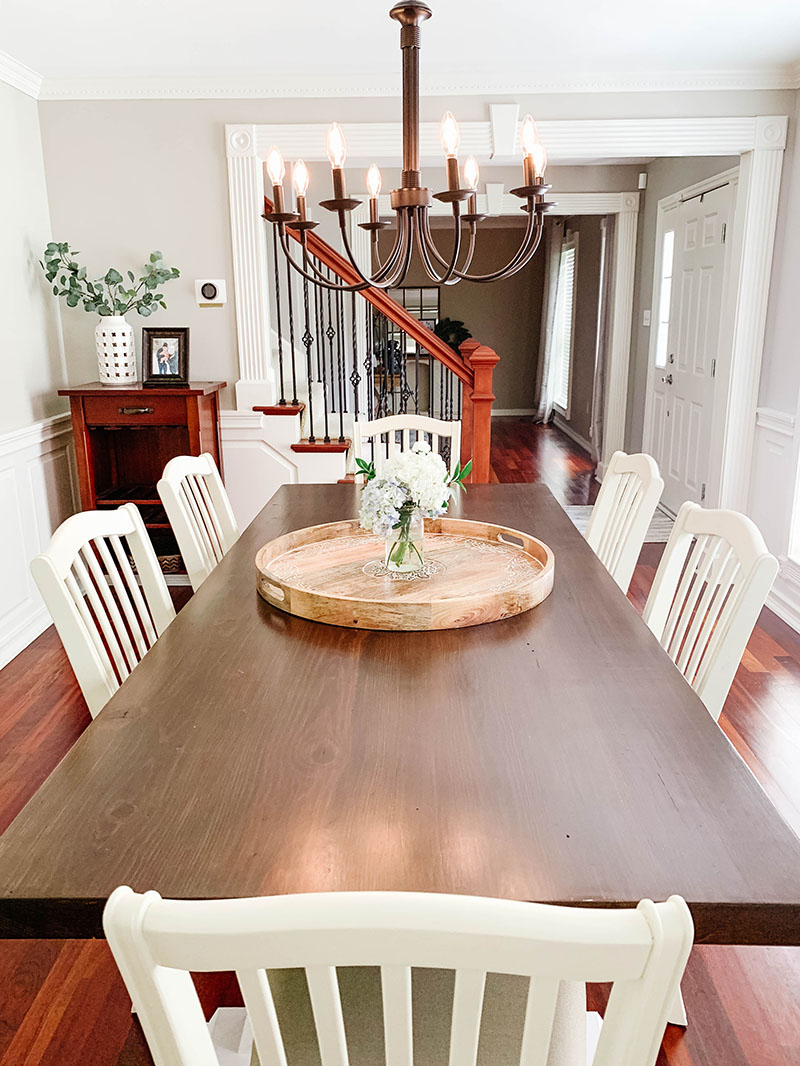 Now this room is one of my favorites in our whole house! It feels so much more like our style and we've already hosted a couple meals around this incredible table. For those of yall who have asked about the table, too, Michael and his dad actually built the tabletop and our trestle legs came from Etsy. Michael painted them white and voila – a gorgeous dining table! Chairs linked here as well. I LOVE these so much. (Chandelier and chairs are on major sale FYI!!)
We love this room and I'm looking forward to all the amazing meals and time spent around this table for years to come. So thankful to Hoffmann Brothers for helping us transform this space into the dining room of our dreams!
This post was created in collaboration with Hoffmann Brothers. As always, all opinions are my own.
SHOP THE POST