Putting together a birthday in a box is a super fun and simple way to celebrate someone you love. You can send a birthday box in the mail or drop it off if you live nearby. Your box can be as basic or extravagant as you want but in the end, opening up this special birthday box will make anyone's day. I love coming up with thoughtful gifts for people in my life and this definitely fits the bill.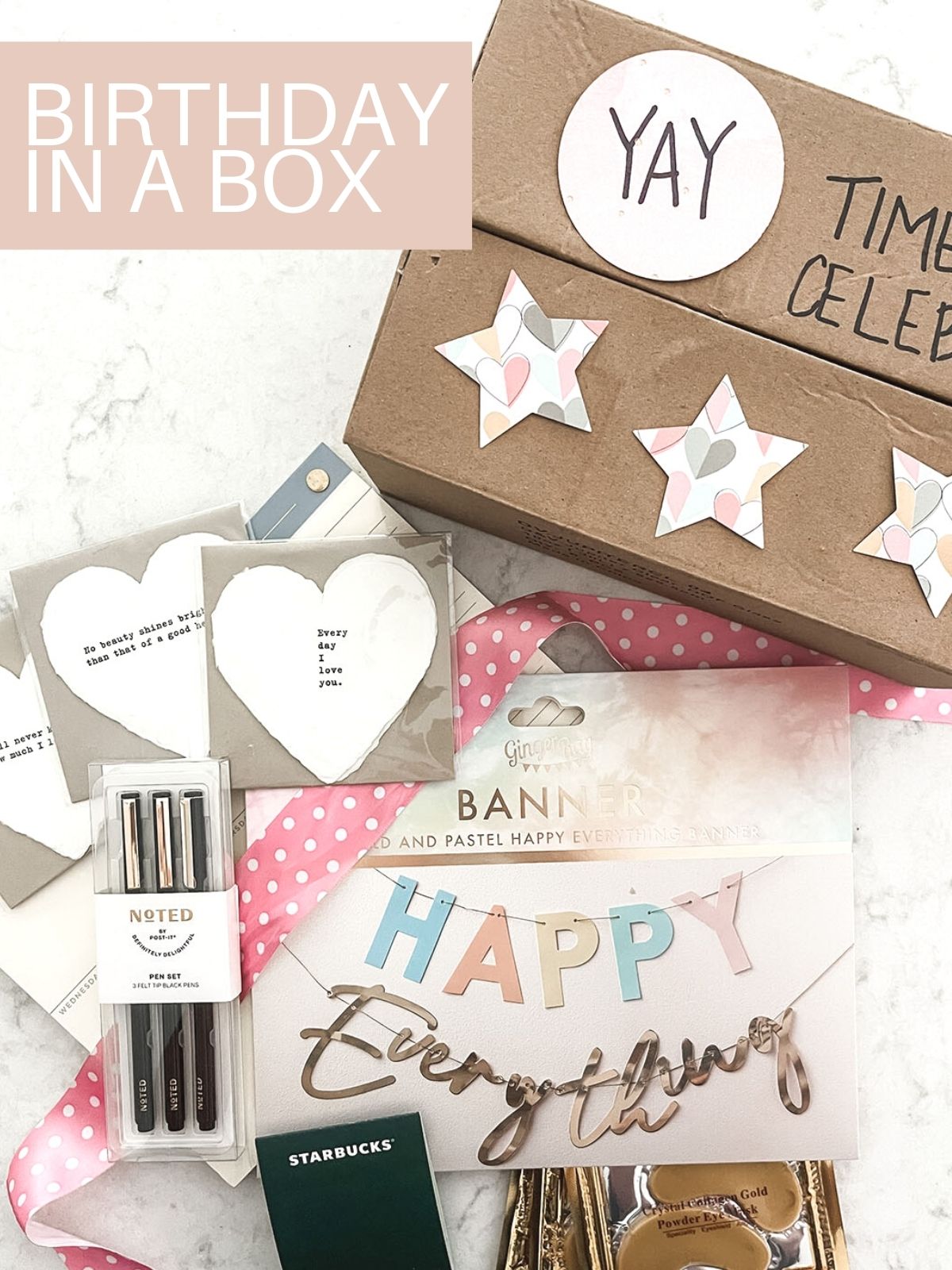 What Is a Birthday Box?
The concept of a birthday in a box is very simple. Find a box and then fill it with small and fun birthday treats, trinkets, supplies, decor, etc. You can decorate the outside, fill with balloons or confetti, and then make someone's day when they open up this super exciting box.
For friends and family that live far, a birthday box can be a really special way of celebrating someone from a distance and letting them know you're thinking of them. Even though you might not be able to have a birthday celebration together, you can send your loved one all the goodies they'll need for a proper party and great day!
What to Put in Your Birthday Box
The options here are truly endless. Much like how I plan my party themes, I like to think about who the recipient of the box is when coming up with ideas of what to put inside. Here are some ideas to get you started.
Decor and Party Supplies
Balloons (partially inflate them and for older kids/adults, you can even roll up money and put inside)
Streamers
Confetti
Colorful paper shred
Birthday headband, tiara, sash, etc
Party blowers
Mini birthday hats
Fun plates or napkins
Small Toys/Trinkets
Mini pinata
Small characters/figurines
Glow sticks
Bubbles
Bouncy ball
Lip gloss
Nail polish
Notebook and pens
Gift card
Treats
Gummies/fruit snacks
Candy
Mini alcohol bottle
Juice box
Trail mix
Favorite soda
Beef jerky
Chips

Decorating a Birthday Box
Once you've packaged up your birthday gift box, give it some extra flare by decorating it! I love to use paper punches, which are basically the cuter and crafty version of a 3 hole punch, for cards and decorations. You can find paper punches in all shapes and sizes and paired with cute washi tape and pretty scrapbook paper, you're set.
You can also use stickers or brightly colored markers to write a message on the box. It doesn't have to be crazy, but it's extra fun to decorate the outside of these birthday boxes so the recipient knows something exciting must be inside.

Other Celebration Box Ideas
Surprising someone with their very own happy birthday box is not only thoughtful but also really fun and unique when it comes to gifting. However, don't be limited by using this concept just for birthdays. What about a best friend box, just because. Or a happy anniversary box, happy graduation, first or last day of school, congrats on your new job, or a bride-to-be box. You can replicate this gifting idea for pretty much any occasion, similar to using the four-gift rule, which I also love.
So, now it's your turn to put together your own celebration box and make someone's day. Get creative and think outside the box… 😉
More Ideas for Celebrating
How to Host a Flower Arranging Party
How to Throw a Favorite Things Party
Boy & Girl First Birthday Gift Guides