Favorite Things: Seven-Month-Old Edition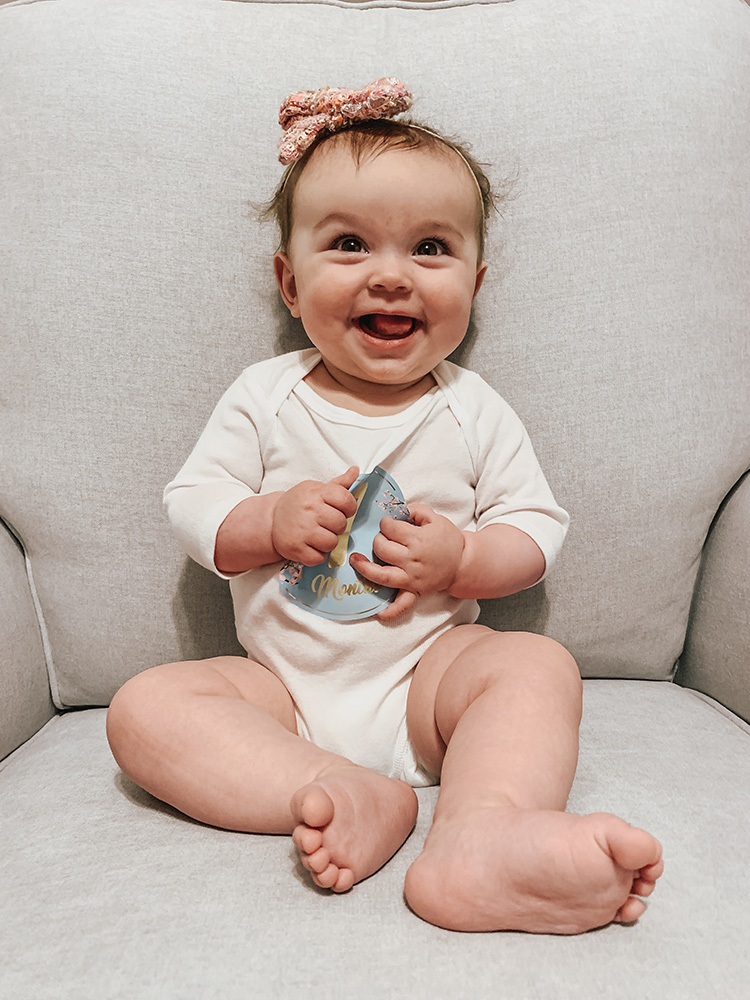 Our precious girl turned seven months old at the beginning of the month, but due to our move (which just happened this past week!) I took a bit of a blogging hiatus. Now that we're settling into the new house and trying to get back into a routine, I wanted to of course share our favorite things of the past month. You can see all my posts from recent months at the bottom of this one!
Kennedy still hasn't cut any teeth but we're sure it'll happen any day now… all the signs are there and EVERYTHING goes in her mouth. These teethers are awesome because they can be put in the fridge to get them cold and the bristles on them give a really neat texture. She gnaws on these things constantly.
Yall know I'm obsessed with Old Navy and it is hands down my favorite place to shop for Kennedy. Their jammies are my FAV and she has several pairs now. They zip, which is obviously ideal, super soft, come in lots of solid colors and cute prints, and are true to size. Big, big fan!
Hard to believe, but she's such a big girl now and sits in her own highchair around the table and to eat. She looks so tiny in this thing but it's the cutest thing to see haha. I absolutely love the simple design of this highchair and the color/style goes so well with our home. (We have the Taupe/Walnut color)
Okay… these lobster chairs are CRAZY! I am so freaked out by the look of this thing but it is extremely sturdy and very practical, especially if you don't have space for a large highchair. I've also seen a lot of people out at restaurants with them. Michael set ours up at our new island, so Kennedy could keep an eye on me if I'm working in the kitchen and she really seems to like it.
Summer Infant 3D Lite Stroller
I've told you a little about our Nuna Demi Grow stroller before (which I love) but we wanted to get an umbrella style stroller that would be easy for travel. We literally picked this Summer Infant stroller up on our way to the airport two weeks ago and it was so worth it. You can fold it with one hand (or foot) and Kennedy absolutely loved facing out and doing some people watching ha.
Tune into my Instagram stories later on as I share some of these items in real life with you. Thanks as always for stopping by. Talk soon!
xx Alex
Previous Kennedy monthly posts here: