We're Building Our Forever Home!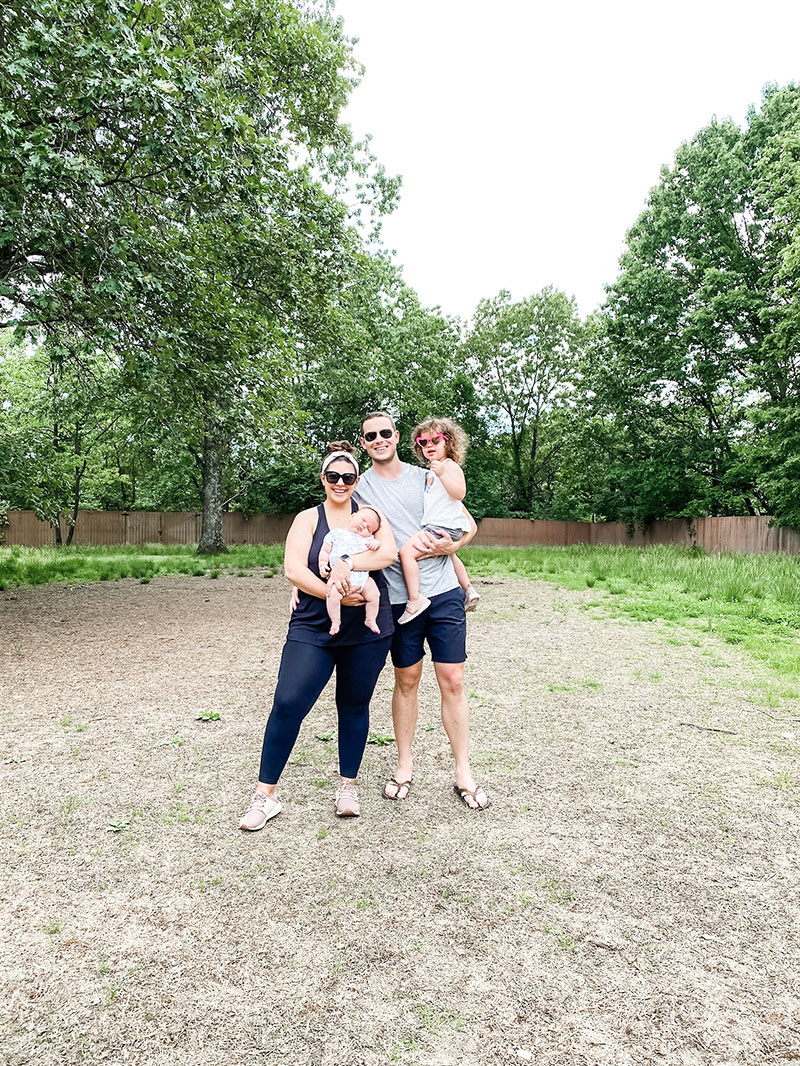 So incredibly excited to finally share that we recently purchased land and are in the early phases of planning to build our forever home! This is a dream we have had for as long as we've been married but truthfully, we didn't expect to be able to build so soon. Long story short, we found a dream piece of property and all the details just fell into place for us to get started on this process in the next year, which is the biggest blessing.
I don't have a ton to share quite yet but I promise this is just the beginning. We plan to share the entire building process with you and I can't wait to have more to talk about. For now, I'll show you some pics of the land and give you a tidbit of what's been going on the last few months.
THE BACKSTORY
As I mentioned, ultimately owning land and building our own home has always been our goal as a couple and as a family. We've dreamed about building a place where our family can gather, grow, and come back to over the next several decades. Our hope was to be able to build early enough in our childrens' lives that they would be able to grow up in this home and always come back to the same place.
It truly is our plan to be here for the rest of our lives once we move in. I'll share more details on this down the road, but we are thinking about the plans of this house through the scope of not only where we're at now, but what it will look like to be empty nesters and even grandparents there someday. It may seem crazy to some, but we're trying to think through everything we'd possibly want to try and plan for in order for this home to be a special place that our family can grow into forever.
We have been planning for and saving for this dream for many, many years. We've also been keeping our eyes open for the perfect piece of land for a couple of years now. This fell into our laps at the perfect time and we are so grateful it's all worked out. We couldn't be more excited.
WHERE IS THE LAND
Not far from where we already are! We are staying here in the suburbs of St. Louis, as planned. Our dream was to find land in the area we currently live because it's the prettiest spot in all of St. Louis if you ask us!
WHAT HAVE YOU DONE SO FAR
Aside from closing on the land, we have hired and met with both a builder and an architect. We've only had an initial meeting with the architect and have yet to see any first renderings of our future home. We should be hearing from him and have another meeting in the next month of two, we believe. We already had a relationship with our builder and he has been absolutely amazing. Feeling super lucky to have both of these guys in our corner and helping us build our forever home.
WHAT COMES NEXT
The land itself needs a lot of work and cleanup, so that's what has been taking place since we officially closed on it. Leading up to the meeting with our architect, we had been saving and prepping LOTS of notes, pictures, drawings, etc to share with him. Michael and I have had folders and notes together for years about our hopes for this home, so it's been a long time coming. Now we are really fine tuning our thoughts and thinking through all the little details. It's equal parts overwhelming and so fun.
We don't anticipate being able to break ground any sooner than early next year (2022) but until then we have plenty to keep us busy and lots of planning to do.
This is one of my fav pictures we've captured so far – Michael and Kennedy in our future backyard scooping up some dirt as a keepsake.
That's about all I have for today but I promise to share lots more and our entire process over the coming months. I'm going to host a Q&A on my Instagram stories this week, so hop over there and let me know what you're interested in hearing more about.
We are so excited to take you along in this crazy journey of building our forever home. It's going to be fun!