Favorite Things: Ten Months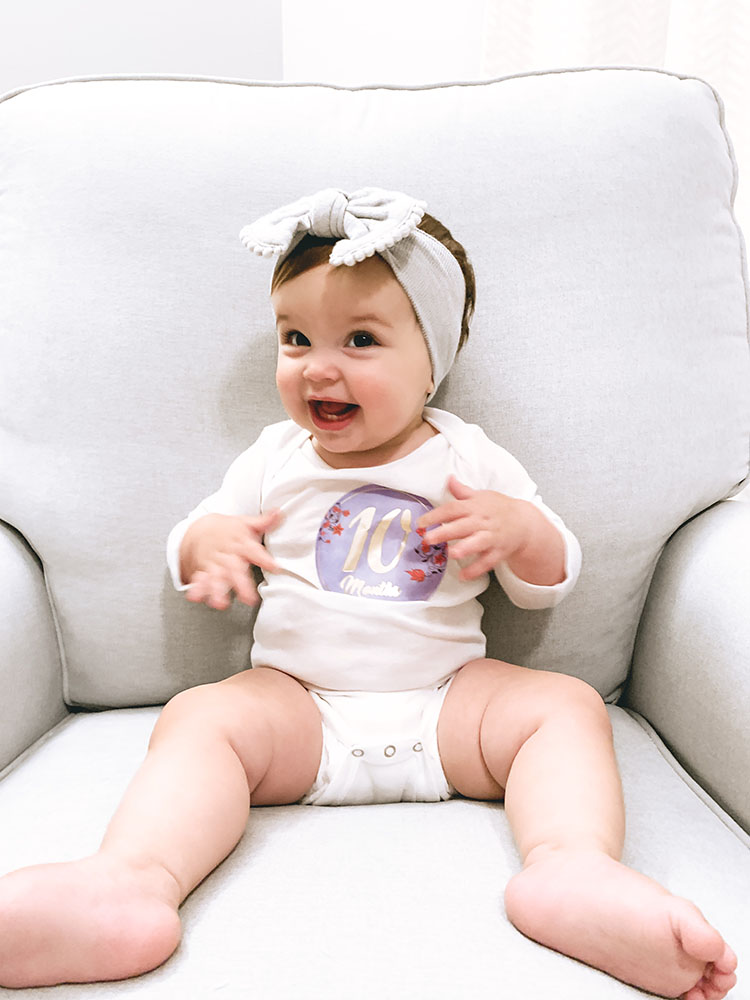 How our little angel is ten months old is beyond me! That means we're just two months from her first birthday, which Lord knows I am not ready for! The last couple of months, in particular, have been so fun with Kennedy becoming mobile, starting to mimic some words, and just feel like a big girl instead of a little baby now. Time is moving so fast and she is constantly changing. Fun but heartbreaking all at the same time!
I've been super emotional this week watching her master new skills and thinking about how close she is to turning one. We waited and prayed for her for SO long and now this first year is just flying by. Michael mentioned something about how when she turns one, we'll basically have just 17 more years like this first one with her before she's out of our house… CUE THE WATER WORKS! Note to self: NEVER have that conversation again. EVER!
Okay, moving on before I start crying again. As I've done each month with Kennedy, we love to share some of our favorite things from the last month. Here are some new things from month ten!
Play mat – For sure the best purchase in the last month! We got this (in the Navy Geo Mountain print) for our living room to add a bit more play space and cushion for Kennedy since our floors are hardwood. It has been a life-saver and was worth every penny. It feels almost like a yoga mat type of material but is much larger than that, obviously. A must have for all the kiddos who are learning to crawl and walk – aka take lots of topples haha – especially if your floors aren't carpeted!
Pool – We got this little pool for our backyard and it's a great alternative to a plastic or inflatable pool. It is much sturdier but the best part is that it's easy to drain and once it's empty, it folds up flat and really doesn't take up much space. It's marketed as being great for pets, too! We had friends over (and lots of kids) on the 4th and this pool was a big hit. One of our friends actually purchased this for her kids after leaving our house that day.
Snack containers – We've started throwing puffs in some of these little snack containers for when we go out to restaurants or will be out of the house for a while. This is not a novel idea by any means, but it's become super quick and convenient to throw one of these in the diaper bag and go.
Outlet cover – Since Kennedy is super mobile now, we're having to keep a much closer eye on her and needed to make sure that the house was baby proofed. Aside from the traditional outlet covers, which we have everywhere, Michael found this handy contraption for us to use behind her crib. There's an outlet directly behind the crib that we use for our Nanit monitor and we wanted to make sure that the outlet wasn't only covered but that the cords were also kept away from her.
Stroller fan – Hadn't gotten one of these until the last month because it got wicked hot here and this stroller fan has been great to clip onto the stroller or carseat when we're out for a walk. We're heading on vacation later this month and we will most definitely be taking this fan with us. It's portable, rechargeable and the clip is a really good size.
Toy chest – I got this on Amazon Prime Day and replaced some smaller baskets we had in Kennedy's room with this chest for her toys and stuffed animals. Now that she's actually playing with toys and has accumulated a few more over the last few months, I needed a better way to corral them all in her room. This toy chest has been GREAT. It is the perfect size and fits a lot of stuffed animals and toys very easily. Bonus points for being super cute, too. There are 11 different designs to choose from (we got the sheep). Definitely recommend for your nursery and/or play room!
Thanks, as always, for stopping by. Have a wonderful weekend!
xx Alex
Previous Kennedy monthly posts here:
PIN THIS IMAGE TO SAVE FOR LATER